What to do in Filandia Quindío
AUTHOR: Travelgrafía
Filandia, Quindío, is one of those small coffee towns that are gradually coming to light and are becoming the target of travelers from around the world.
Filandia is one of the quietest municipalities in Quindío, a place that offers a wide range of cultural and natural plans, both in and around the town.
Also in this beautiful municipality you will find an excellent gastronomic offer and you will be dazzled by its preserved architecture of Antioquia colonization that blends in harmony with the incredible landscape that surrounds it.
FILANDIA QUINDÍO
Filandia is located in the department of Quindío, Colombia, on a hill 1,917 meters above sea level.
This small town is known as the Illuminated Hill of Quindío, its climate in the day can reach 24°C and at night go down to a temperature of 13°C.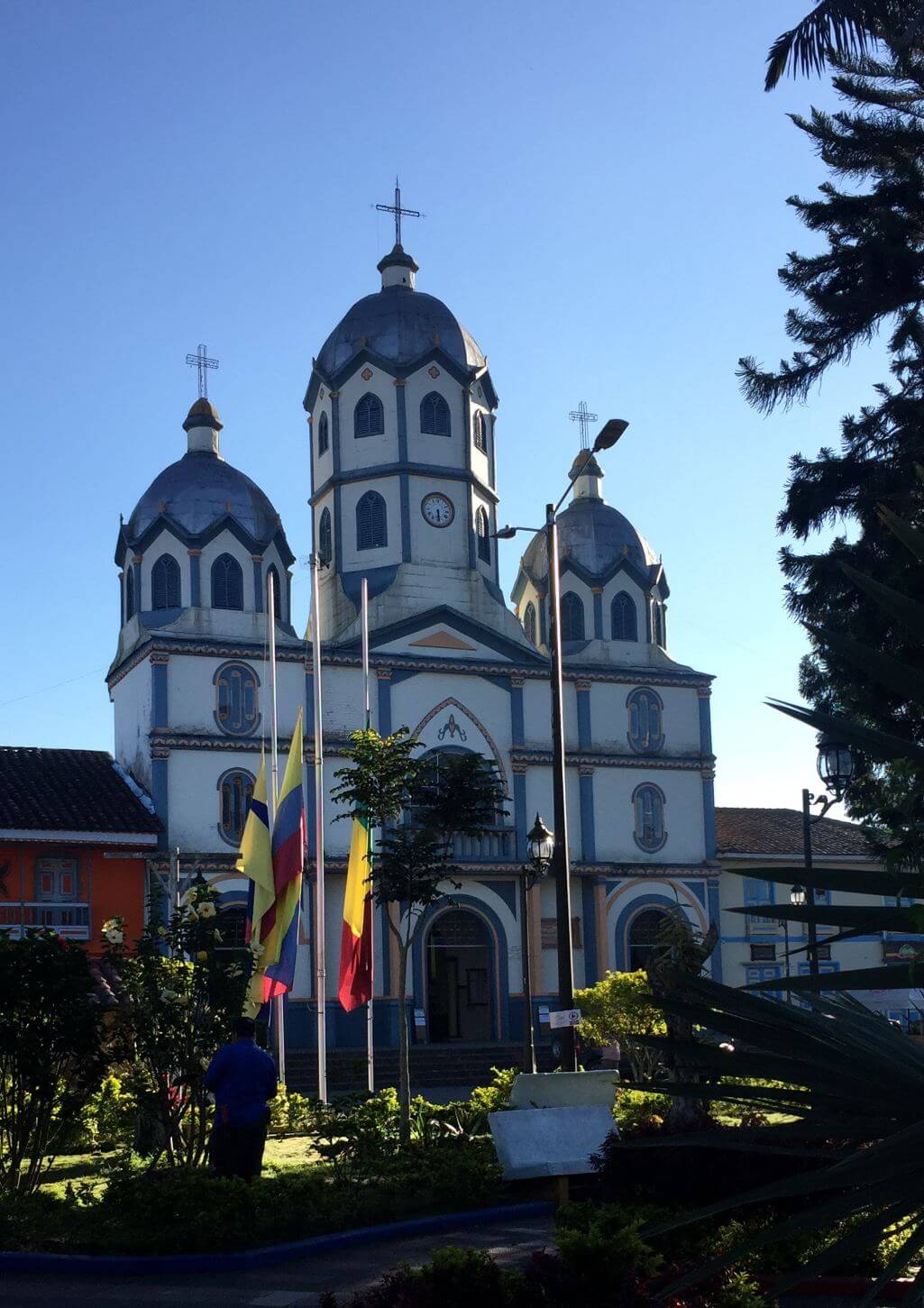 A Filandia is often compared to Salento, and although they bear similarities, the truth is that the Illuminated Hill of Quindío is much quieter and less visited than its neighbor Salento.
Before traveling to Filandia you should know that in that territory of the Quimbaya Indians, a very calm, organized and hardworking tribe, and that is perhaps why there are many working, thriving and very friendly people there today.
Now that you know almost everything about Illuminated Hill, let's continue with how to get there, what to do, where to eat and where to stay in Filandia.
HOW TO GET TO FILANDIA QUINDÍO?
To get to Filandia from any city in Colombia or the world, you must first arrive at the Transportation Terminal of Armenia and from this point you must board a bus to Filandia.
🚌 Bus Bogotá to Armenia: $55,000 COP and 7 hours each way
🚌 Bus Medellín to Armenia: $65,000 COP and 6 hours each way
🚌 Bus Cali to Armenia: $34,000 COP and 3.5 hours each way
🚌 Bus Barranquilla to Armenia: $110,000 COP and 20 hours each way
If you are in any other city or simply want to travel by plane, you must get to the airport in Armenia. Flights you can get cheap in Skyscanner and Avianca.
In the Transportation Terminal of Armenia you can find buses to Filandia from $4,500 COP and each journey can take about 45 minutes to arrive.
A great idea is to get to Salento first, spend the night there and get to know the Valle del Cocora before to go Filandia.
From Salento you can get to Filandia in Jepp. The trip lasts approximately 40 minutes, the value of the ticket can be obtained from $5,500 COP and they operate in the main park from 8:30 a.m. to 6 p.m.
Recommended: Heritage towns of Colombia
WHAT TO DO IN FILINDIA QUINDÍO?
1. CALLE DEL TIEMPO DETENIDO
Walking through the town is a good option for the first day you arrive in Filandia. Explore and know a little of their culture, each step will allow you to observe the preserved architecture that stands out from their homes and reflects the influence of the Antioquia colonization.
Although the architecture and the colorful streets are present almost in all the town, it is in the Calle del Tiempo Detenido where you can notice much more.
The Calle del Tiempo Detenido, is a street where you can appreciate the architectural value of this region, in it you can find some restaurants, shops that sell things paisas and even handicrafts in palm of iraca and bejuco.
A few meters from the Calle del Tiempo Detenido you can sit a while in the main park, rest, look for a good coffee or just walk it to contemplate those gigantic trees that surround it.
2. PARISH MARY IMMACULATE CONCEPTION OF FILANDIA
In the main park you can also visit the Parish Mary Immaculate Conception, a large construction dating back to 1905.
The design of this church is very special, because it is one of the few temples in the world that are made of bahareque and tapia tread. Really a construction that can be among las más instagrameables de Colombia.
the most instagramable in Colombia.
Recommended: How to get there and what to do in Barichara Santander
3. CENTER OF INTERPRETATION OF THE BEJUCO TO THE BASKET
A few meters from the main park of Filandia, Quindío, there is the Interpretation Center of Bejuco al Canasto, a museographic and interactive space, which belongs to the Association of Artisans of Filandia.
This museum is a place designed for visitors to establish a relationship with the basket weaving environment of Bejuco. A very special approach in which you can learn the history of basketry associated with the collection of coffee and other fruits of pancoger.
The guided tour costs $2,000 COP, lasts about 20 minutes and really is a must if you want to know in depth this beautiful tradition that refuses to disappear in the middle of an industrialized world and highly dependent on plastic.
In the interpretation center you can also find a small shop with the new handmade products based on the vine that are made. Beautiful accessories at the manufacturer's price.
Schedule: Monday to Friday from 9 a.m. to 6 p.m.
4. ILLUMINATED HILL VIEWPOINT OF FILANDIA
On the outskirts of Filandia, on the road that leads to Quimbaya is this beautiful viewpoint.
To the Illuminated Hill Viewpoint of Filandia you can arrive walking or in private vehicle, if you opt to walk it is about 20 minutes from the main park and by car about 5 minutes.
In any case, you will always pass through the San José neighborhood, also known as the Artisan Masters Route, since most of the artisan families who make the beautiful baskets and accessories that live in the Interpretation Center of Bejuco live there.
The Illuminated Hill Viewpoint of Filandia is an imposing structure almost 27 meters high, built with Caribbean mangrove and woods like zapán. Inside there are balconies from which you can see the Coffee Cultural Landscape in a 360º angle.
If you are lucky and you go on a day of dismemberment, besides enjoying an incredible you will be able to see some municipalities in the departments of Risaralda, Quindío and Valle del Cauca. Ah! and the Nevado del Tolima.
The Illuminated Hill Viewpoint of Filandia is open every day from 9 a.m. at 7:00 p.m and on weekends until 10 p.m.
Tickets: $8.000 COP
5. BARBAS RIVER CANYON
Filandia is home to two of the largest natural reserves in the region: the Barbas and Bremen forests, between them amount to just over 300 hectares, are environmental heritage and forest reserves.
In these native forests live some of the last herds of howler monkeys of South America and other endemic species, so it is a very fragile ecosystem that is only open for scientific and academic activities.
However, if you are interested in visiting part of the natural landscape of Filandia and spotting howler monkeys in the wild, you can visit the Barbas River Canyon.
The Barbas River Canyon is located in a private farm, so it is necessary to go in the company of a local guide who is authorized to do the tour.
The tours to the canyon usually start from the main park of Filandia, where a Jepp will take you to 15 minutes to the sector from where the walk begins.
The walk lasts about 4 hours and in it you will have to enter through the Andean forest of fog, you will be surrounded by white yarumos, black cedars and other trees with erect branches and tall foliage, which serve as habitat for the red howler monkeys.
The tour of this natural reserve should be done cautiously and silently, and you have to be very attentive (and have some luck) to see a herd of howler monkeys in their natural environment.
Keep your senses well active, because you will need an incredible view and have a well-tuned ear, because when you are looking for them you will surely hear the howl of the herd, a loud rumble that can be heard throughout the canyon.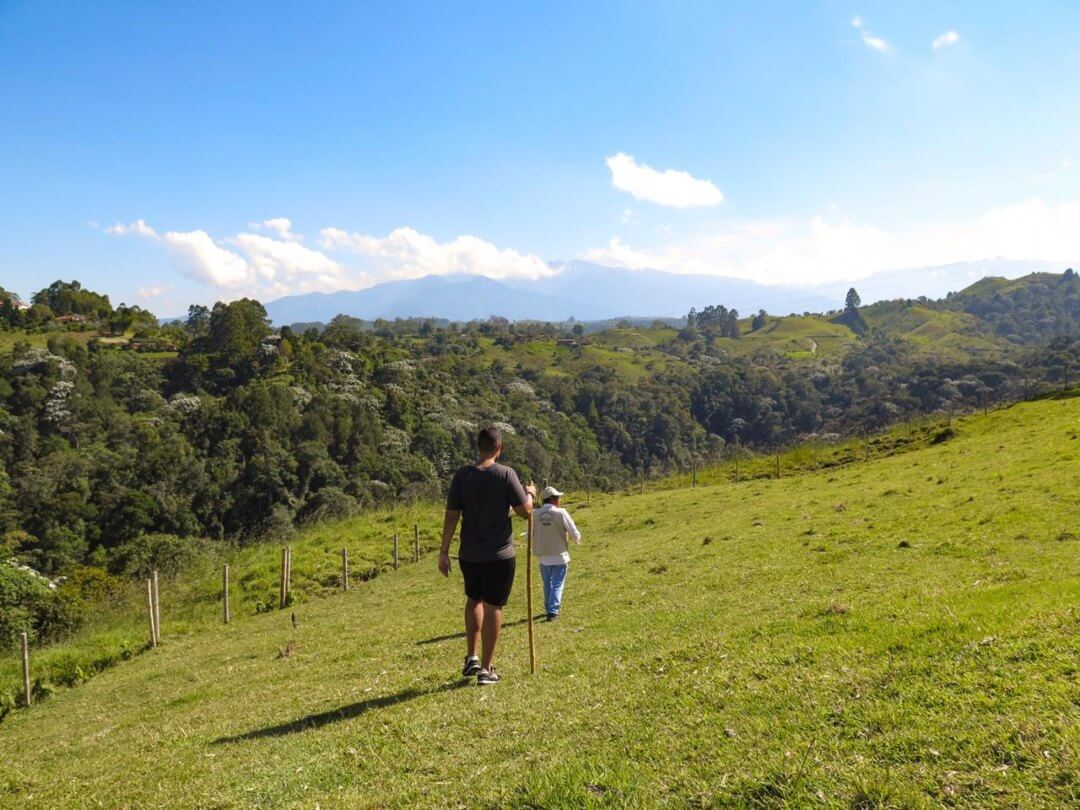 Keep in mind that when you go to see wildlife, it is best to wear dark clothes, shoes with good grip, good binoculars, good camera, hydration and some fruits that can give you energy for the road.
Remember to take with you a tote bag so that you can return all the garbage that your visit can cause and avoid leaving organic waste such as peels or food scraps, as these can generate pests and diseases in the wild.
If you need the guide service to the Barbas River Canyon, call Mr. Luis at (+57) 320 610 2210, he is an accredited guide who will charge you $40,000 per person, with transportation and insurance included. This tour is cheaper than the ones offered in the park.
Recommended: Termales de la Cabaña
WHERE TO STAY IN FILINDIA QUINDÍO?
1. BIDEA BACKPACKERS HOSTEL
Two blocks from the main square of Finland, in a beautiful colonial house is this colorful hostel.
Bidea Hostel has a fully equipped kitchen, terrace, barbecue area, common areas, an open library and provides a bicycle rental service. All rooms have a shared bathroom.
Shared room from $25,000 | Private from $70,000 COP
Confirm prices and availability in Booking or Hostelworld
2. MYTHOS HOSTAL
Mythos Hostal is located on the Calle del Tiempo Detenido and it really is a colorful place designed for resting amid a cozy atmosphere very close to the main square of the town.
Some rooms have a balcony facing the street, a private bathroom and reservations include regional breakfast.
Private room for two people from $140,000 COP
Confirm prices and availability in Booking
3. CASA MUY CHACHO
On the outskirts of Filandia, only 15 minutes from the town, is this beautiful lodging, between coffee and banana plantations. A beautiful and cozy country house ideal for resting and enjoying a quiet environment surrounded by nature.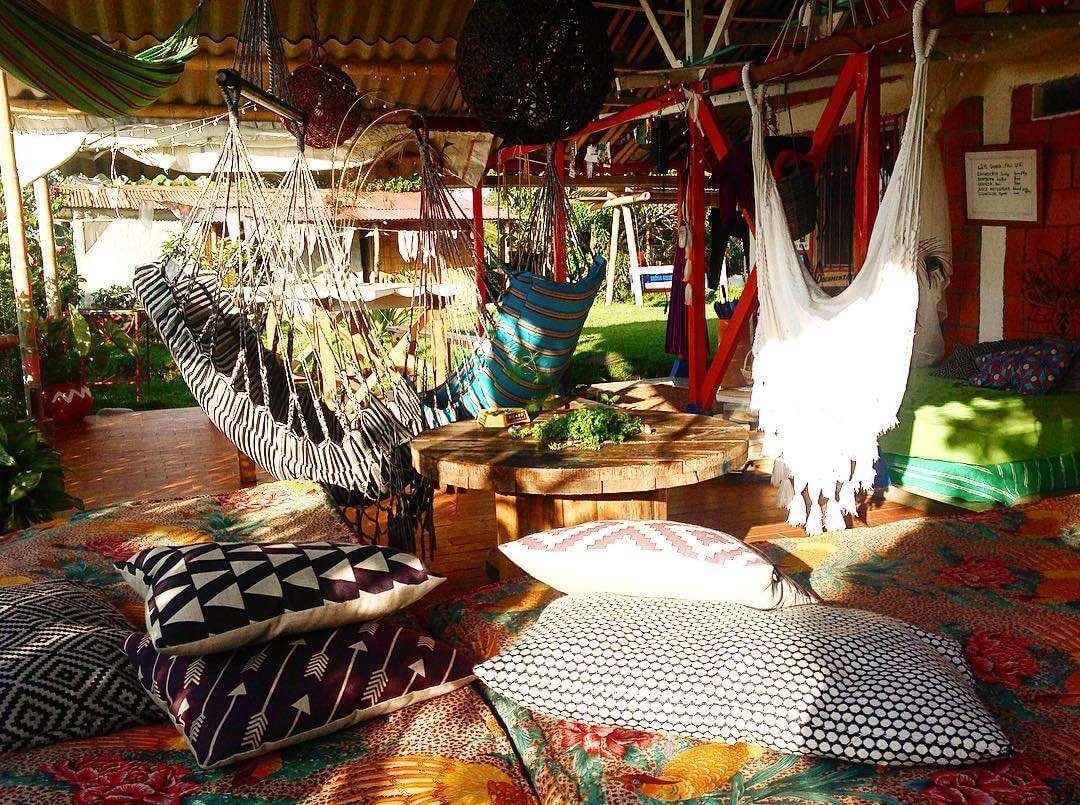 This hostel has few rooms and very close you can enjoy the river and some farms where you can learn and live an experience around the cultivation of coffee.
Shared room from $ 25,000 | Private from $ 70,000 COP
Confirm prices and availability in Booking or Hostelworld.
Recommended: The best hostels in Colombia
WHERE TO EAT IN FILINDIA QUINDÍO?
The cuisine of the region is really exquisite and Filandia has very good restaurants.
HELENA ADENTRO
If it is a question of recommending a place where you can enjoy the food in an artisanal way and with a completely new concept, we recommend visiting Helena Adentro.
Helena Adentro is a fascinating and cozy restaurant, located in an old house with little intervention, and although it still preserves the original architecture they have managed to acclimate it in a natural, artistic and full of color.
Its gastronomic offer is very varied and all its dishes prepared with the best ingredients of the region. Keep in mind that the whole menu is thinking under the philosophy of sharing, which makes the visit a nice experience for couples, friends and families.
We recommend you try the choripan made with Santarrosano chorizo, the farm aubergines with caramelized onions and goat cheese, and the marranitas and the yuca cakes, they will really be a feast for your palate.
Dishes from $15,000 COP.
BUDGET TO TRAVEL TO FILINDIA QUINDÍO
✅ Armenia to Filandia: $31,000 COP each journey
✅ Shared room: $35,000 COP per night
✅ Guide to Barbas River Canyon: $40,000 COP
✅ Entrance to the Iluminada Hill Viewpoint: $8,000 COP
✅ Tour Interpretation Center Bejuco: $2,000 COP
Remember, in your visit to Filandia and to any other destination in the world, be careful with the natural resources, the water sources and try to reduce the trace of your presence to the maximum.
OTHER DESTINATIONS NEAR ARMENIA
Termales de la Cabaña, Reserva Termal San Vicente, Buenavista, Santa Fe de Antioquia, Jardín, Jericó and Pijao
Before leaving, look at our travel guide ebook and continue discovering unexplored Colombia.
See you soon!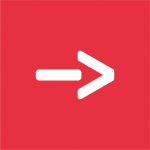 Travelgrafía
Somos un medio de comunicación que conecta viajeros amantes de la naturaleza y la aventura con historias que inspiran a descubrir la Colombia inexplorada.