Things to do in Santa Marta
AUTHOR: Travelgrafía
Santa Marta is perhaps one of the tourist cities of Colombia that you have heard the most about, but you really know what to do in Santa Marta and its surroundings? Continue and discover all that this part of the Colombian Caribbean offers.
In this travel guide, in addition to knowing itineraries that will help you decide what to do in Santa Marta, we will show you how to get there and what to do in Tayrona park, Taganga, Minca, Lost City, Palomino and some indigenous communities.
Information updated to August 2019.
SANTA MARTA, COLOMBIA
Before knowing in detail what to do in Santa Marta and its surroundings, it is important that you know that this is one of the most beautiful cities in Colombia, and one of the few places in South America that can presume to have survived colonization with great decorum.
Santa Marta is in the north of Colombia, punctually in the department of Magdalena, on the Caribbean coast, and is surrounded by incredible places of virgin and exuberant nature.
The climate of Santa Marta is very hot and windy throughout the year, and its average temperature is generally between 24°C and 32°C.
HOW TO GET TO SANTA MARTA?
You can reach Santa Marta from almost any city in Colombia and the world, you can do it by air and land. The main routes and rates are:
🚌 Bus Barranquilla to Santa Marta: $15,000 COP and 2 hours
🚌 Bus Cartagena to Santa Marta: $35,000 COP and 4 hours
🚌 Bus Bogotá to Santa Marta: $90,000 COP and 16 hours
🚌 Bus Medellín to Santa Marta: $100,000 COP and 16 hours
If you are in Bogotá, Medellín, Cali, or any other city, traveling by bus can be very exhausting, here you can find a flight that fits your dates and budget.
WHERE TO STAY IN SANTA MARTA?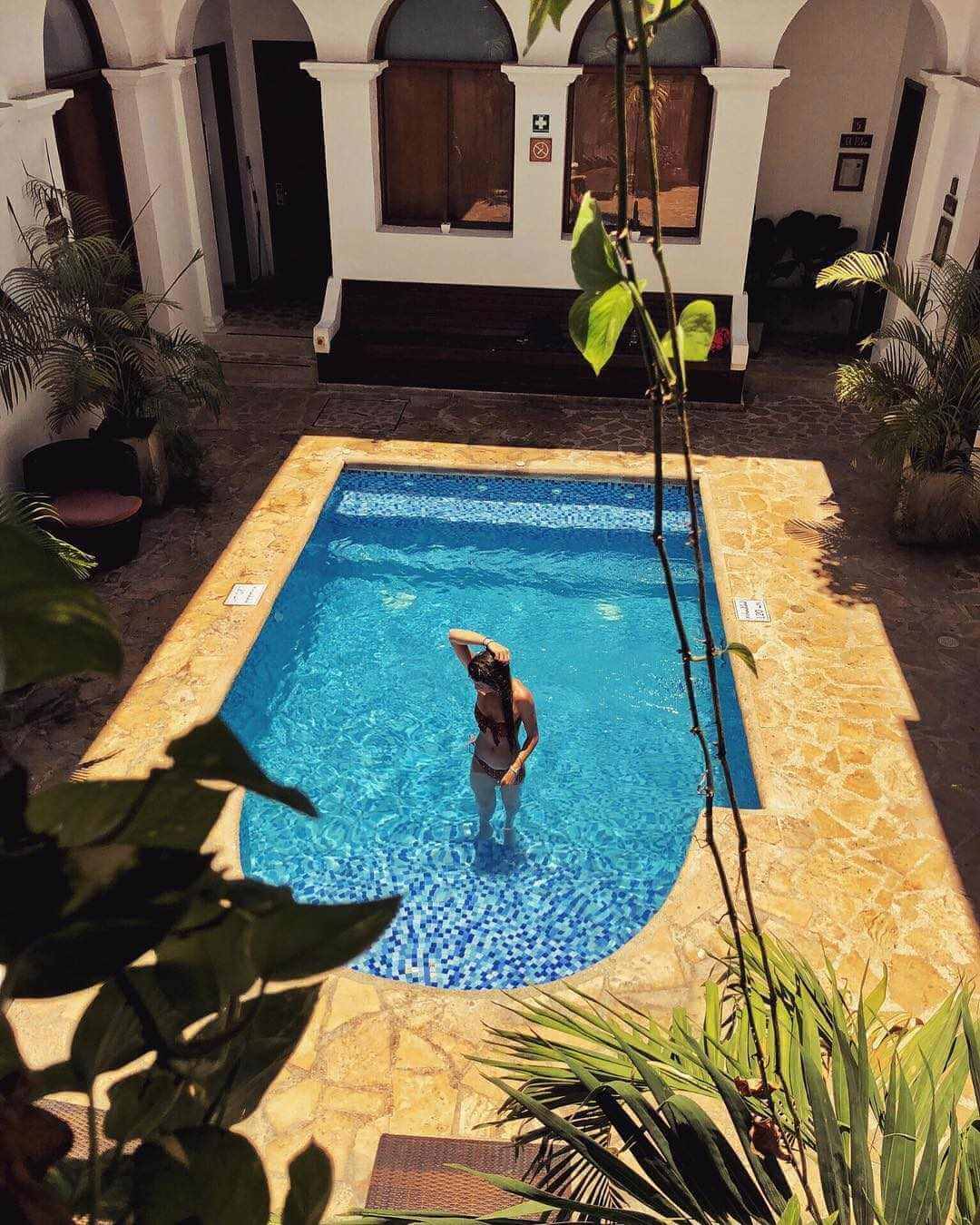 In Santa Marta there are many lodging options that fit all tastes, preferences and budgets, we recommend that if you are looking for a nice, comfortable hotel or hostel, well located and at a good price, you should look at:
Hotel Catedral Plaza, Hostal El Españolete, Casa Verano Hotel Boutique, Rua Hostels, La Brisa Loca, Hotel Casa Bugambilia, República Hostel, Masaya Hostel, Faro de Alejandría Hostel and Casa Amani.
WHAT TO DO IN SANTA MARTA?
These 10 plans will help you decide what to do in Santa Marta and its surroundings:
1. BEACHES AND MUSEUMS IN SANTA MARTA
EL RODADERO, PLAYA BLANCA, BELLO HORIZONTE AND POZOS COLORADOS
El Rodadero is one of the busiest beaches in the bay of Santa Marta, it is located about 5 kilometers from the historic center and you can reach it very easily by public transport.
In El Rodadero you can take a boat that takes you to Playa Blanca for $12,000 COP, but keep in mind that both El Rodadero and Playa Blanca, Bello Horizonte and Pozos Colorados are the most tourist beaches of Santa Marta and therefore you are very likely to find much trade and influx of people.
So if what you want are paradisiacal beaches, little known and not so crowded with people, it is best to set your eyes on Tayrona, Palomino or Taganga.
TAIRONA GOLD MUSEUM
The Tairona Gold Museum is located next to Bolivar Park, in the old Customs House, an incredible 18th-century building that has witnessed the city's long history.
Inside you will find more than 560 archaeological and ethnographic pieces of the Sierra Nevada de Santa Marta, and a large exhibition that puts in context the cultural heritage of Santa Marta and the department of Magdalena.
Free pass
Hours: Tuesday to Saturday 9 a.m. to 5 p.m. Sundays and holidays 10 a.m. to 3 p.m. Closed Mondays, even holidays Mondays.
QUINTA DE SAN PEDRO ALEJANDRINO
La Quinta de San Pedro Alejandrino is an old hacienda, where Simón Bolívar drew his last breath, and place that today is an indispensable National Historic Monument to understand the life of the liberator.
At present, in the hacienda you can find guided tours in the Botanic Garden of San Pedro Alejandrino, the old sugar cane mill and the Bolivarian Museum of Contemporary Art, places that worship the memory of the Liberator.
Price: Colombians $16,000 COP and foreigners $22,000 COP
Hours: Sunday to Sunday from 9 a.m. at 4:30 p.m.
HISTORICAL CENTER OF SANTA MARTA
Then or before visiting the Tairona Gold Museum, you should take a tour of the Historic Center of Santa Marta, get to know Bolivar Park, Santander Square, the Bastide Malecon and end the night in a good bar and restaurant in Parque de los Novios.
Do not forget to know the mythical Cathedral Basilica of Santa Marta, the Morro de Santa Marta or Fort San Fernando, and the large number of colonial and republican houses that still retain their original architecture almost intact.
If you want to take a guided tour of the historic center of Santa Marta, La Quinta de San Pedro Alejandrino, the Tairona Museum and Taganga, here you can book your tour with transportation and tickets included.
2. TAGANGA
Taganga is located just 20 minutes from the historic center of Santa Marta. This small fishing village is very visited by people from all over the world, since in its quiet beaches you can breathe a hippie and backpacking environment.
This corregimiento of Santa Marta is undoubtedly one of the places where you can appreciate one of the best sunsets, perhaps, all the Colombian Caribbean.
WHAT TO DO IN TAGANGA?
In Taganga you will find Playa Grande, a less crowded and cleaner beach than El Rodadero, some places to dive and snorkel or dive, and a beautiful viewpoint and boardwalk from which you can see the sun fall over this small bay.
On the other hand, if you have little time in Santa Marta and want to know as quickly as possible a part of the Tayrona National Natural Park, in Taganga you can board a boat heading to the interior of the park.
The boats that go from Tanganga to Tayrona, take about 2 hours to reach the beach of Cabo San Juan, and per person they usually charge $70,000 COP.
HOW TO GET TO TAGANGA FROM SANTA MARTA?
Getting to Taganga is very easy, you just have to take a bus in the historic center of Santa Marta, the trip takes about 20 minutes and the ticket costs about $1,600 COP.
If you are lazy to ride a bus, another option you have to know Taganga and passing through the main points of interest of Santa Marta, is to take this guided tour that includes transportation to and from your accommodation.
WHERE TO STAY IN TAGANGA?
In Taganga, time does not seem to run, there are no large hotel chains, or fancy restaurants, but there are small hostels and hostels that have incredible viewpoints.
So if you are looking for a nice place, very comfortable, clean and above all that has a great atmosphere, yes or yes you should be encouraged to spend more than one night at the Mirador Hostel Club Social, Hotel Cactus Taganga, Hotel Jaba Nibue, Hostal Casa Horizonte or at Cielo Hostel.
In these lodges you will find double rooms from $75,000 COP and shared rooms from $25,000 COP.
3. TAYRONA PARK
The Tayrona National Natural Park is perhaps one of the most beautiful and best preserved parks in Colombia. And it is not for less, because being part of the Sierra Nevada de Santa Marta, its biodiversity makes it a cultural sanctuary and home to a great natural wealth.
Within the park there are different ecosystems such as dry, humid, cloudy forests, beaches and some thorny thickets, where a great variety and number of bird, mammal and coral formations are housed.
So, if you love the sea but also adventure, and at the same time the tranquility and ancestral cultures, visiting the Tayrona is almost a mandatory response, when you ask yourself what to do in Santa Marta?
WHAT TO DO IN TAYRONA PARK?
The Tayrona is an ideal place for hiking and resting on its beaches, so before setting up your trip from Santa Marta to Tayrona Park, you must keep in mind that the park has 3 entrances, and that each one will take you to places, experiences and different beaches.
If you are looking to sleep inside the park and enjoy more beaches than hiking, you must enter Tayrona through the entrance of Zaino. But if you want to walk and enter the woods, you must enter through the Calabazo.
The third entry to Tayrona Park is made by the Palangana sector. There you can visit the beautiful beaches Neguanje, Gayraca and Cristal beach, but keep in mind that in this part of the park you will not be able to spend the night.
Also, it is important that you know that previously Calabazo took you to Pueblito, an old Tayrona settlement, and then to Cabo San Juan, the most emblematic beach in the park. But currently from the Calabazo, you can only reach Playa Brava, a lonely beach where despite not being able to enter the sea, you can spend the night in Teyumakke.
Bungalows Playa Brava Teyumakke
So today, the best alternative to get to know Tayrona Park in a single day is to enter through Zaino.
HOW TO GET TO TAYRONA PARK FROM SANTA MARTA?
The Tayrona Park is less than 1 hour from Santa Marta and if you want to visit it you can go to the Transportation Terminal or Public Market, take a bus that goes to Palomino and tell the driver to leave you at the entrance you want from Tayrona.
The bus trip from Santa Marta to Tayrona takes about 50 minutes and you can get it from $7,000 COP. Although, you can rent a car and arrive on your own.
WHERE TO STAY IN THE TAYRONA PARK?
If you want to sleep inside Tayrona Park you can do it at Playa Brava Teyumakke or at Hotel Jasayma.
Even inside the park you can find camping areas and cabins, but the truth is that this type of lodging is in high demand and that makes sleeping inside the park can be a bit expensive.
The best thing you can do besides booking in advance is to stay close to the park entrance.
Places like EcoHostal Yuluka, EcoHotel Chayrama, Quetzal Dorado EcoLodge, Viajero Tayrona Hostel, Manigua Tayrona Hostel and Casa Barlovento, have an incredible offer.
4. MINCA
Minca is a village of Santa Marta, which is located just 14 kilometers from the city center. This small coffee town nestled in the foothills of the Sierra Nevada de Santa Marta is a paradise for nature lovers and alternative plans.
Minca, is also an old indigenous settlement and in its vicinity you will find nature trails, plans that include ecological walks, visits to coffee farms, bird watching, and tours of crystalline rivers.
WHAT TO DO IN MINCA?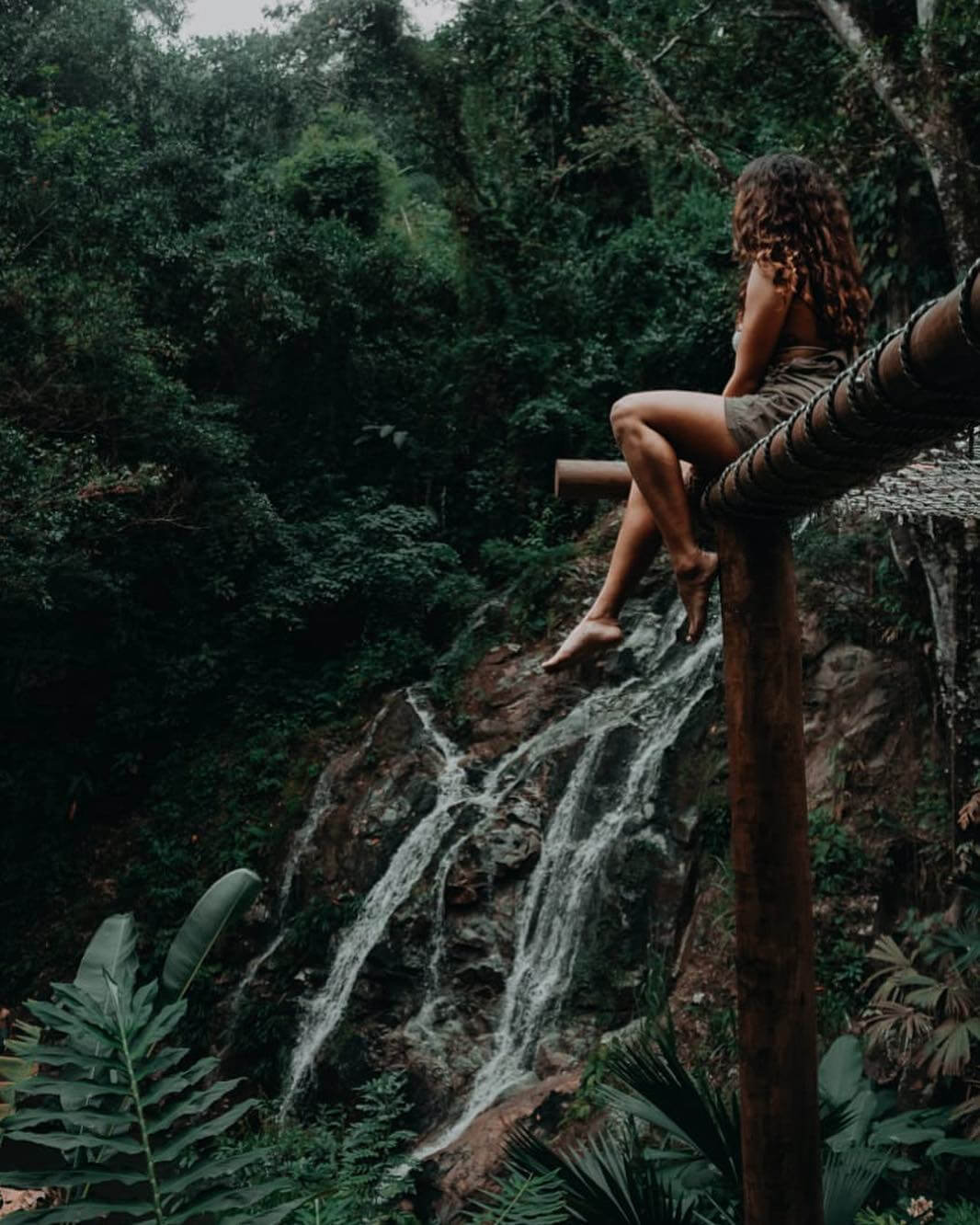 So, when you don't know what to do in Santa Marta, remember that Minca will always be an excellent alternative, and when you decide to visit it, make it a must see the Cascades of Marinka and Pozo Azul.
The Marinka Waterfalls descend from the mountains of the Sierra Nevada de Santa Marta and are part of a natural spa. You can reach them walking for 1 hour from the town center or by motorcycle taxi, and entering them costs $4,000 COP.
Pozo Azul is a beautiful natural pool of water that also emanates from the Sierra Nevada de Santa Marta. A place that you can also reach on foot or by motorcycle taxi from the center of Minca. Keep in mind that since your admission is free, it usually gets very crowded on weekends.
Other plans you can do in Minca are: explore the El Dorado Bird Nature Reserve, spot birds on the San Lorenzo hill and visit the Cocoa Museum, the latter is located in front of the Police station, its entrance is free and opens everyday.
HOW TO GET TO MINCA FROM SANTA MARTA?
To get to Minca from the city of Santa Marta, you must reach the Public Market, and next to where buses leave to Tayrona Park, there is Cootrasminca, a small mini-van company that goes to Minca for $8,000 COP.
If you travel in a group, another alternative you have to get to Minca, is to take a taxi from anywhere in the city of Santa Marta and before you ride negotiate its price for about $45,000 COP. By taxi and by jeep the journey is about 45 minutes.
¿DÓNDE HOSPEDARTE EN MINCA?
If you want to spend at least one night in Minca, you can stay at Hostal Casa Loma Minca, Casas Viejas, Casa Relax or Casa Elemento. In these lodgings you can get shared rooms from $30,000 and private rooms from $120,000 COP.
5. LOST CITY TEYUNA
Lost City Teyuna, is the main urban, political and economic center of the ancient Tayrona civilization, and getting to this one is difficult, because you can only achieve it after a 4-day walk.
In this indigenous settlement live around 70,000 indigenous people of the Kogui, Arhuaco, Wiwa and Kankuamos ethnic groups, who keep unimaginable knowledge and stories. Its construction dates back to the year 700 AD, but for centuries it disappeared in the jungle, survived the time of the Spanish conquest, and was only re-discovered until 1970.
WHAT TO DO IN LOST CITY?
In Lost City you will come into contact with the cultural heritage of the ancient Tayrona villages, and you will be able to travel natural trails and sidewalks, they are at least 24 kilometers of long ascents, steep slopes, river crossings and mighty ravines and thick jungles.
Without a doubt, traveling to Lost City is an experience that can be a sporting and personal challenge.
During your way to Lost City you will be able to live with native cultures and natural scenarios loaded with a great wild wealth, because you should know that only in the Sierra Nevada de Santa Marta there are 44 of the 340 endemic species registered in Colombia.
HOW TO GET THERE AND WHERE TO STAY IN A LOST CITY?
You can get to Ciudad Perdida from Santa Marta, but you cannot do it on your own, you should always go in the company of a guide from a local indigenous operator.
Currently, you can find 4-day trekking plans that include transportation from downtown Santa Marta, lodging in indigenous cabins, food, travel insurance and native guide to the top of Lost City Teyuna for $1,100,000 COP.
Book a 4 day tour to Lost City
6. PALOMINO
Palomino, is a small multicultural paradise with extensive vegetation and beautiful beaches. A place that will undoubtedly connect you with nature and where there is no cavity for worldly concerns.
Although, Palomino has recently been recognized by travelers from around the world as the ideal destination for backpackers, backpackers and hippies, the truth is that this little corner is a great natural attraction for friends looking for fun.
Recommended: Best beaches in Colombia
WHAT TO DO IN PALOMINO?
Palomino has it all, beaches with the perfect waves to learn to surf, rivers to tire and tubing, freshwater waterfalls, ecological trails, solitary spaces to meditate or do yoga.
In Palomino you can also find some indigenous settlements where you can learn about the worldview of the Arhuaca culture. If you are interested in surf lessons, you can get them next to Hostal Finca Escondida from $30,000 COP.
HOW TO GET THERE AND WHERE TO STAY IN PALOMINO?
Palomino is located in the department of La Guajira, 2 hours from the city of Santa Marta, and to get there you only have to take a bus at the Public Market, which costs about $15,000 COP.
Since Palomino is a little removed from Santa Marta, the best thing you can do is spend at least one night there, and for that you can opt for Makao, Faro Hostel Palomino, Tiki Hut Hostel, Casa del Pavo Real Boutique Hostel or Casa Chapolin.
In these lodgings you can get shared rooms from $25,000 and private rooms from $110,000 COP.
Book accommodation in Palomino
7. SEYDUKWA
Seydukwa is a hidden community among the jungle mountains of the Sierra Nevada de Santa Marta, a spiritual place for the Arhuacos Indians who inhabit the Palomino river basin, and which is protected by the Mamos, the ultimate expression of wisdom of this ancestral town.
In Seydukwa, millenary knowledge about environmental conservation and natural wealth that this paradisiacal place that considers the Sierra as the heart of the world is kept alive.
WHAT TO DO IN SEYDUKWA?
Seydukwa is undoubtedly an experience that will allow you to know the worldview of their ancestral customs and sacred rites of this indigenous people who have inhabited the Sierra Nevada de Santa Marta for thousands of years.
In this spiritual place you can travel in the company of a native their houses and stone walls, he will explain how they grow and collect organic cocoa, he will give you a unique explanation of the symbolism of the AYU (Coca Leaf) and you can share with Mamo.
HOW TO GET THERE AND WHERE TO STAY IN SEYDUKWA?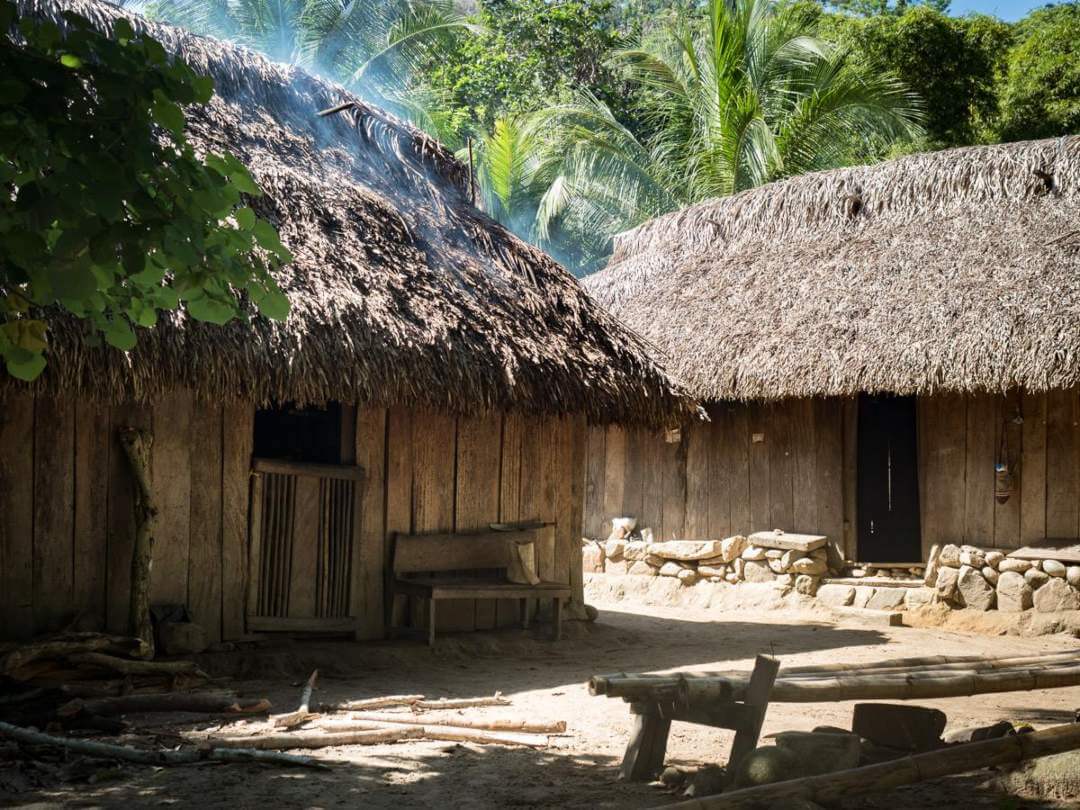 You can only enter Seydukwa with the authorization of the Mamos Arhuacos, so this is an experience only offered by the indigenous Arhuacos themselves.
The tours you can get leave from Palomino and start with a walk of approximately 2 hours, and is done by an ecological path that reaches the home of the Arhuaca indigenous family, Seydukwa.
You can find the one-day tour to Seydukwa for $310,000 COP, but if you travel in a group you can hire it for about $200,000 COP per person.
In addition, if you want to spend the night in Seydukwa and participate in a workshop that explains how Maguey fabrics are worked for backpacks, handles and hammocks, you can find 2-day experiences from $360,000 COP.
More information about tours to Seydukwa
8. TAIRONAKA ARCHAEOLOGICAL PARK
The Taironaka Archaeological Park is a nature reserve nestled in the foothills of the Sierra Nevada de Santa Marta, on the banks of the Don Diego River, where archeology and the ancestral symbology of the Tayronas converge.
WHAT TO DO IN TAIRONAKA?
In the park you can visit an ancient city of Tayrona, you can explore ecological and archaeological trails that lead to the museum where original pieces of ancient Indians and terraces similar to those of Lost City lie.
In Taironaka you can also find bird watching plans, it is possible to see different species of toucans, parrots, hummingbirds and flytraps, practice kayaking, tubing on the Don Diego River and stay at the hotel inside.
OW TO GET TO TAIRONAKA FROM SANTA MARTA?
1 Hour and a half from Santa Marta is Taironaka, an excellent place for ecological tourism and learn about archeology. To arrive you just have to take a Cootransoriente bus in the Public Market of Santa Marta towards Palomino or Riohacha.
Also, you can drive on your own to the crossroads of the Don Diego River, where Hotel Taironaka staff will embark you by boat on the river for about 15 minutes until you reach the reserve.
If you go by bus you must tell the driver that you are going to Taironaka, they usually know where to get off. If you go by car, do not worry, drive until you see a sign that says "Welcome to Taironaka", there reservation staff will tell you where to park the car and how to take the boat to get to the hotel.
WHERE TO STAY IN TAIRONAKA?
So, if you plan to spend the night at Taironaka, you can do it in bungalows for two people, which have large terraces, private bathrooms and a nice view over the river, ideal for romantic plans.
If you are traveling as a family or with your group of friends, you can also find family and double rooms starting at $150,000 COP.
Confirm prices and availability
Here you can book your 1-day tour with transportation, guide and lunch included from $160,000 COP
9. GOTSEZHY
Gotsezhy is a small Wiwa Indigenous town embedded in the Sierra Nevada de Santa Marta at 450 meters above sea level, which houses approximately 50 Wiwa families and is crossed by a beautiful river and waterfalls with crystal clear waters.
The Gotsezhy refuge is considered as a cultural, educational, administrative and political center of the Wiwa people, where you can enjoy fantastic landscapes and learn the beliefs and customs of a town that bases its vision on the conservation of nature.
WHAT TO DO IN GOTSEZHY?
During your visit to Gotsezhy you will have the opportunity to get to know in depth all the Wiwa indigenous culture and customs, a cultural immersion where you can learn from their culture, beliefs, customs, values and sustainable knowledge systems that articulate life with a harmonious relationship between Nature and the environment.
In addition, in Gotsezhy you can go trekking, see the flora and fauna of the region, swim in the Guachaca River and get to know the beautiful Matuna ancestral waterfall, a wonder hidden among the mountains of the Sierra Nevada de Santa Marta.
HOW TO GET THERE AND WHERE TO STAY IN GOTSEZHY?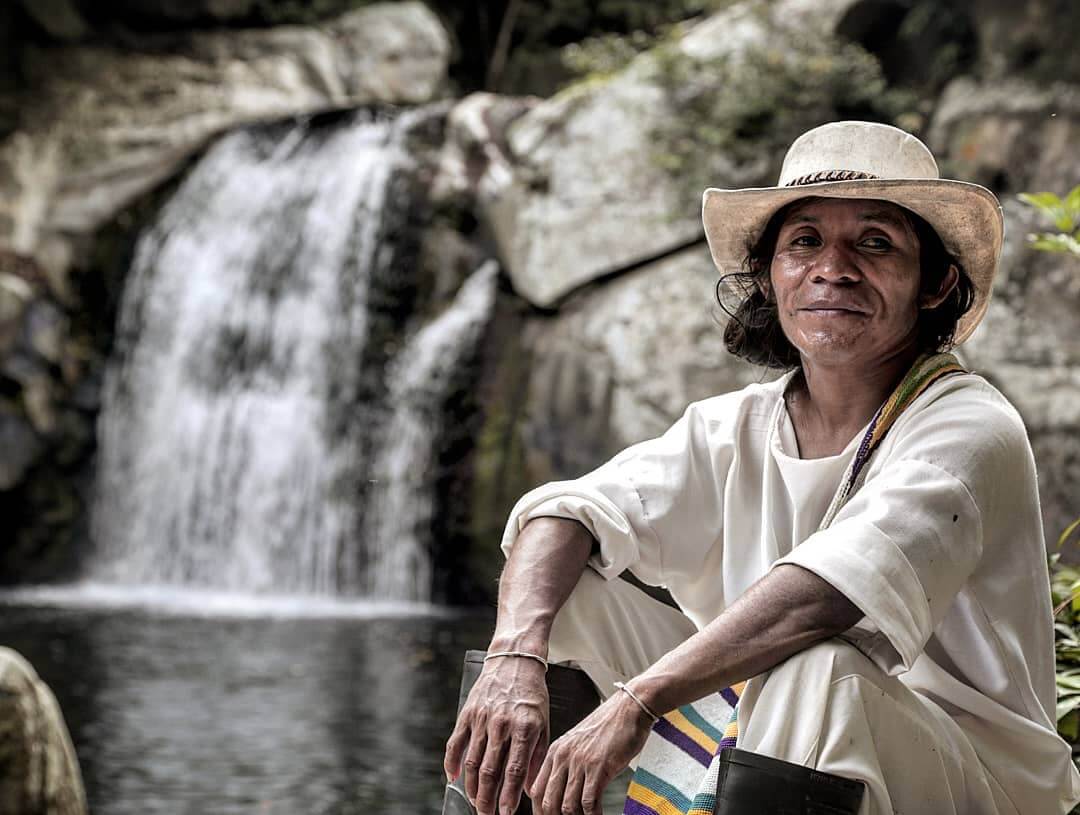 The Gotsezhy indigenous settlement can only be entered with the authorization of the Wiwa Indians, who daily offer 2-day excursions that include transportation from Santa Marta, accommodation, food and native guide from $500,000 COP.
10. CARTAGENA
How not to take advantage of your visit to Santa Marta to make your trip a longer tour of the Colombian Caribbean, and if that is what it is, Cartagena cannot be left out of your travel plans and itineraries.
In Cartagena, in addition to enjoying the walled city and its dozens of museums, squares and fortresses, you can feel the authentic coastal culture in traditional neighborhoods like Gethsemane and San Diego.
WHAT TO DO IN CARTAGENA?
From Cartagena de Indias you cannot leave without first touring the historic center in search of stories and places loaded with great value for the Caribbean region and the country in general.
So try to visit the Zenú Gold Museum, the Cartagena Historical Museum and the Fortifications Museum. In addition, in the center you can visit several squares, among which are the Plaza de Armas, the Plaza de Bolívar, the Plaza de San Pedro claver and the Plaza de la Trinidad.
If you love nature and have time, you can visit the National Aviary, the Botanical Garden or the Rosario Islands.
HOW TO GET TO CARTAGENA FROM SANTA MARTA?
Getting to Cartagena from Santa Marta is very easy, because there are many buses that quite frequently make this route.
It is only a matter of going to the Transportation Terminal of Santa Marta or the Public Market and boarding a bus, these take 4 hours to arrive and charge about $30,000 COP.
WHERE TO STAY IN CARTAGENA?
As you know, Cartagena is one of the most visited places in Colombia, so it is common to find places full of tourists and crowds, something not so pleasant.
So, we recommend that if you want to live a more authentic experience and a little further from the masses, you stay in the Getsemaní or San Diego neighborhood, but if you want to be in the most modern and commercial area of Cartagena stay in Bocagrande.
In Gethsemane and San Diego you can spend the night at The Icon Capsule Hostel, Arsenal Hostel Boutique or Maloka Boutique Hostel, inside the Walled City you can sleep at The Clock Hostel & Suites.
In the Bocagrande sector you can stay at Hyatt Regency Cartagena, Oz Hotel or at San Martin Cartagena.
WHAT TO DO IN SANTA MARTA IN 3 DAYS?
To finish this tour guide we will tell you what to do in Santa Marta in 3 days, and what itineraries you can take:
WHAT TO DO IN SANTA MARTA IN 1 DAY?
1) In the morning you can explore the museums of Santa Marta
2) Lunch in the historic center
3) In the afternoon go to Taganga and enjoy the sunset
4) In the evening you can dine in Santa Marta
Where to eat in Santa Marta? The best restaurants in Santa Marta are: Ouzo, La Basilea, Burukuka, Donde Chucho and Lulo.
WHAT TO DO IN SANTA MARTA IN 2 DAYS?
1) The first day explore the museums of Santa Marta and Taganga
2) The second day early in the morning and dedicate the whole day to Tayrona Park
Guide to travel to Tayrona Park
WHAT TO DO IN SANTA MARTA IN 3 DAYS?
1) The first day explore the historic center of Santa Marta and Taganga
2) On the second day, Palomino gets up early and takes a tubing down the river
3) The third day gets up early and spends the whole day in Tayrona Park
Another itinerary that answers the question, what to do in Santa Marta in 3 days? is:
1) Dedicate the morning of the first day to the museums of Santa Marta
2) In the afternoon go to Minca and spend the night there
3) The second day, get up early at Tayrona Park and sleep in Palomino
4) And on the third day you tubing or share with the Seydukwa community
Remember, visit the site you visit, always respect nature and be sure to return your trash with you, including organic waste such as shells or food debris, as these can generate pests and diseases in wildlife.
IF YOU LIKE SANTA MARTA, LOOK AT THESE OTHER TRAVEL GUIDES
Things to do near Bogotá, Tatacoa desert, Jardín, Barichara, Mompox, Guatapé, Salento, Palomino, Fin del Mundo and 10 Beautiful towns near Medellín.
Good trip!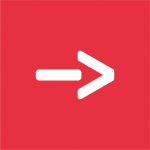 Travelgrafía
Somos un medio de comunicación que conecta viajeros amantes de la naturaleza y la aventura con historias que inspiran a descubrir la Colombia inexplorada.