Salento, Colombia
AUTHOR: Travelgrafía
Salento is a beautiful town in Colombia located in the department of Quindío. A small place of colorful houses that seem detained in time, which reflect the strength of the Coffee Region and the beauty of the Cocora Valley.
In this travel guide you will learn all about Salento, you will know how to get, where to stay, what to do and what to pack, we will tell you about the Cocora Valley, the House of hummingbirds and we will tell you the budget.
Updated to November 2019
SALENTO, COLOMBIA
Salento is the typical coffee town with friendly people and colorful streets. A small place considered the Father of Quindío, for being the oldest of the three departments that make up the Coffee Region.
Salento is 1,895 meters above sea level, its climate is mild and its average temperature is usually between 20°C and 10°C. So carry comfortable clothes in your travel bag.
HOW TO GET TO SALENTO?
To get to Salento from Bogotá or Cali you must first arrive to the city of Armenia, while from Medellín and Manizales you will have to reach Pereira.
🚌 Bus Bogotá to Armenia: $55.000 COP and 7 hours
🚍 Bus Cali to Armenia: $34.000 COP and 3,5 hours
🚌 Bus Medellín to Pereira: $47.000 COP and 5 hours
HOW TO GET TO SALENTO FROM ARMENIA AND PEREIRA?
At the Terminal de Transporte Armenia, you can take a bus to Salento with the company Cootracir, buses leave every 20 minutes from 5:30 a.m. until 7 p.m., it takes 50 minutes to arrive and you get from $4,500 COP.
At the Terminal de Transporte Pereira, you can get Excal Alcala buses that go directly to Salento from 6:30 a.m. until 7:30 p.m. and it costs $7,500 COP.
In Pereira, you can stop to explore the Botanical Garden of the Universidad Tecnológica de Pereira, and rest very close to the terminal at Baladar Hostel, Kolibri Hostel or at Hotel Don Alfonso
In Armenia you can visit the beautiful Botanical Garden of Quindío, this is located in Calarcá 25 minutes from Armenia, and you can spend the night at Bio Habitat Hotel, Finca La Dulcera or Hotel Campestre Solar de la Luna.
WHERE TO STAY IN SALENTO?
In Salento you will find a wide range of lodgings, luxury hotels, hostels, camping areas and glampings in the middle of nature. In any case, remember to book in advance and look at our recommendations:
($) Hostal Ciudad de Segorbe, Viajero Hostel, Coffee Tree Boutique, Mochila Hostel, Hostal Tralala, La Casa de Lili ($$) Terrazas, La Caracola, Hotel El Jardín, The Plantation House ($$$) Hotel Terasu
WHAT TO DO IN SALENTO COLOMBIA?
1. WALK IN THE TOWN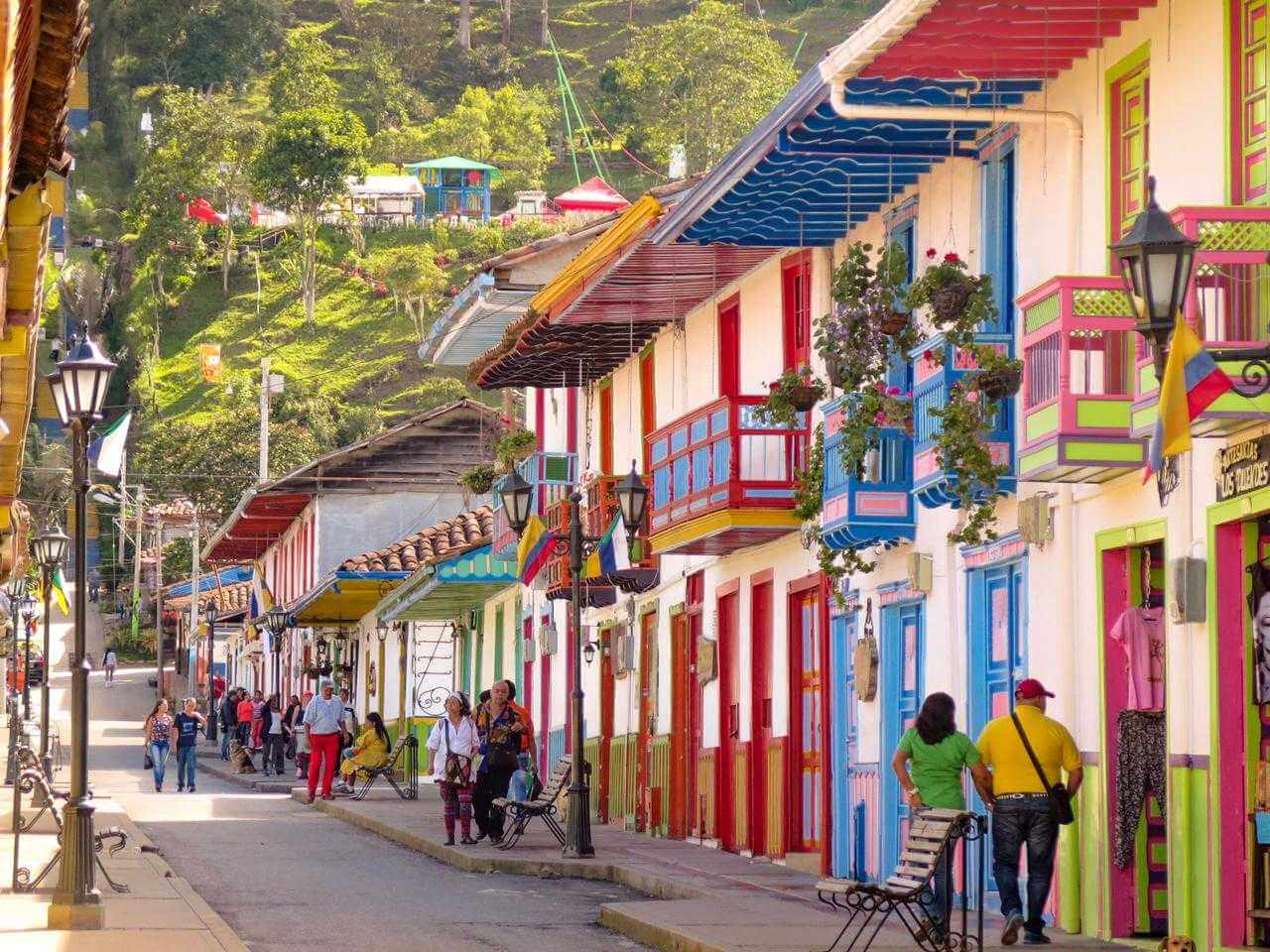 The first thing you can do when you arrive in Salento, is to tour the town, walking will help you to know the architecture of the Antioquia colonization, in which houses of bahareque and mud predominate with colored balconies and flowered gates.
Although, it is true that Salento is a place that receives many tourists, and that at times it can be difficult to achieve that perfect photo or feel a more authentic experience, the best days to visit it is during the week.
On your walk through the streets of Salento, you can visit the Plaza de Bolívar, taste a delicious slush of coffee and enter the Church of Nuestra Señora del Carmen.
As you walk through the town, you will notice that the architecture of the Salento houses demonstrates the socio-economic organization that prevailed in the Coffee region until the early twentieth century.
2. WALK THROUGH THE CALLE REAL AND ENJOY THE SALENTO VIEWPOINTS
The Calle Real is the main street of Salento, along this you will find a wide variety of restaurants, cafes, and craft shops, where you can buy a nice souvenir or coffee-based sweets.
This street literal is a single street, that starts from the main park and ends with some huge and beautiful colorful stairs that lead to Alto de la Cruz, one of the two viewpoints of Salento.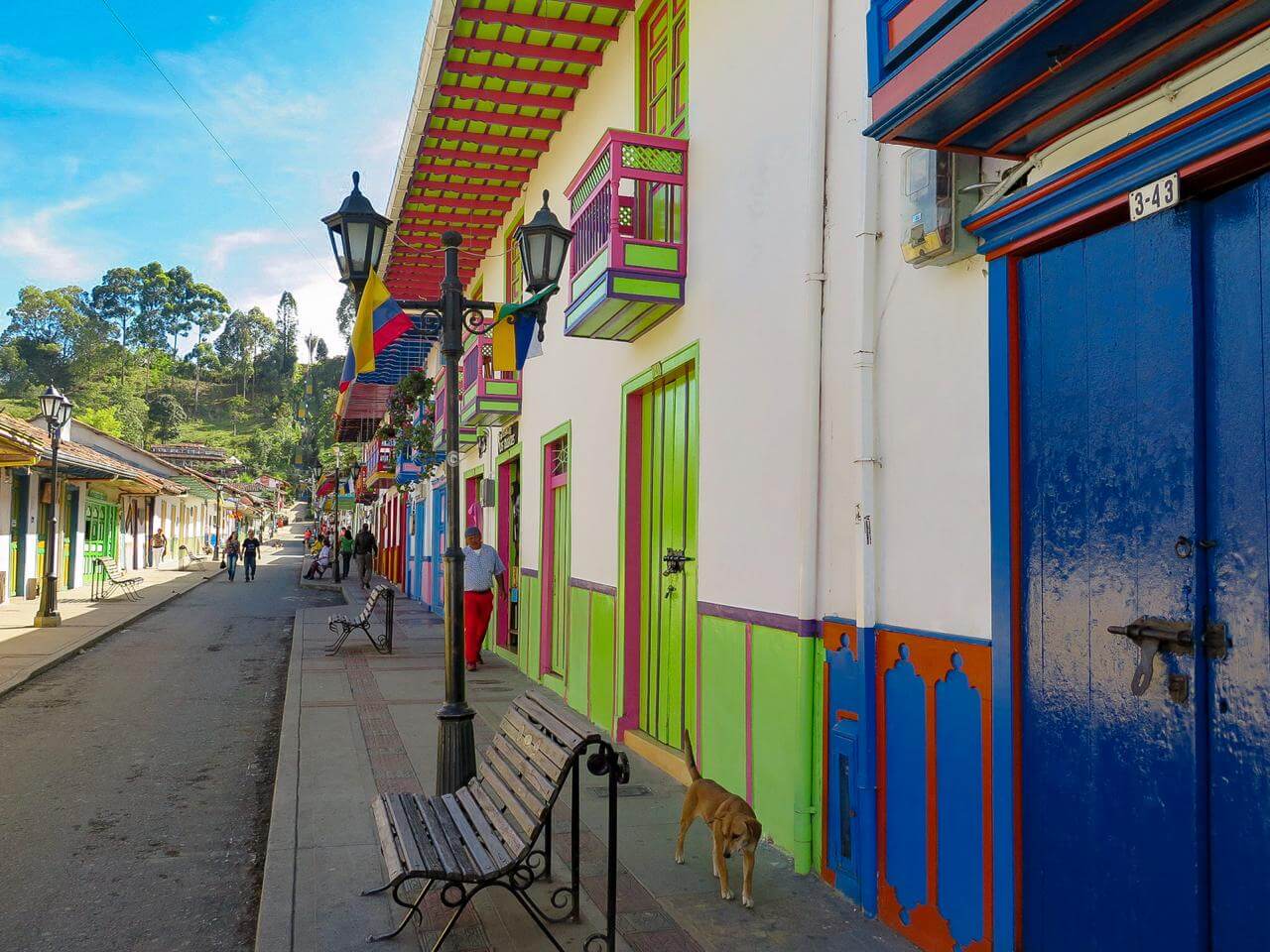 From the Alto de la Cruz viewpoint, you will be able to see a large part of the town, and its church, if the day is clear, in the distance you will see part of Armenia and the mountains of Los Nevados National Natural Park.
After spending some time in Alto de la Cruz, you can take the road that is next to the stairs, this will take you to the Mirador de Salento, remember you do not have to go down the stairs, just follow the other path that is available.
In the Mirador de Salento you will find a beautiful wooden construction from where you can see the Cocora Valley, and the Quindío River that feeds the city of Armenia and two more municipalities of the Coffee Region.
3. GO TO THE COCORA VALLEY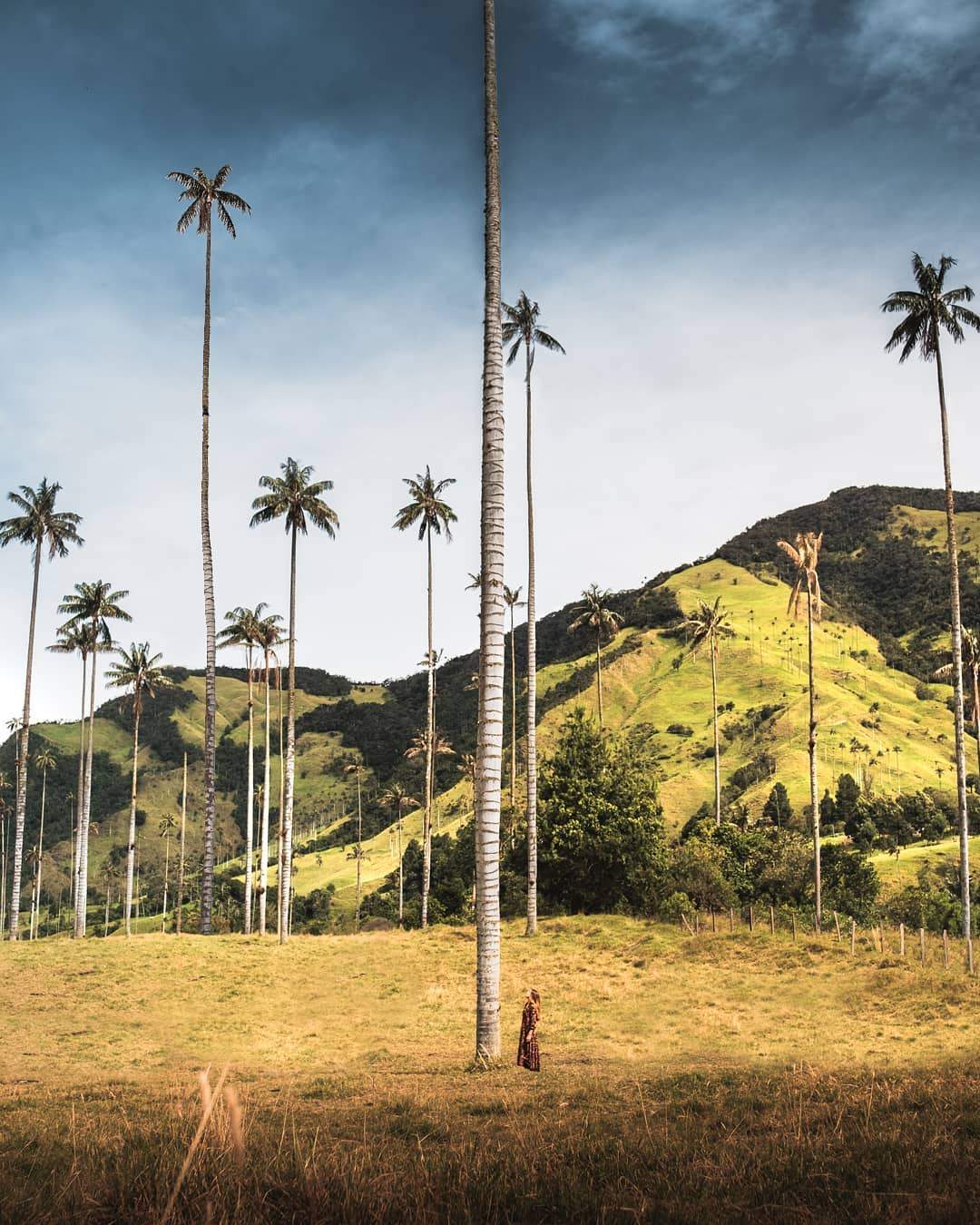 The Cocora Valley is one of the most incredible landscapes in the world, one of the last foggy forests that house the Quindian Ceroxylon or Quindio wax palm, the highest in the world.
Before visiting the Cocora Valley, it is important that you know that although in 1985 the palm of wax was declared a national tree of Colombia, today it is seriously threatened and in danger of extinction because of extensive livestock.
Cutting a palm to make room for cattle grazing land means losing the home of hundreds of species, and the fruits and leaves that many other animals like the yellow-eared parakeet, the toucan and the spectacled bear depend on.
Therefore, when you go to the Cocora Valley remember to travel with responsibility, respect the local flora and fauna, take care of the smaller wax palms and avoid leaving trash and food scraps at all costs, you will not want to cause pests and diseases in life wild.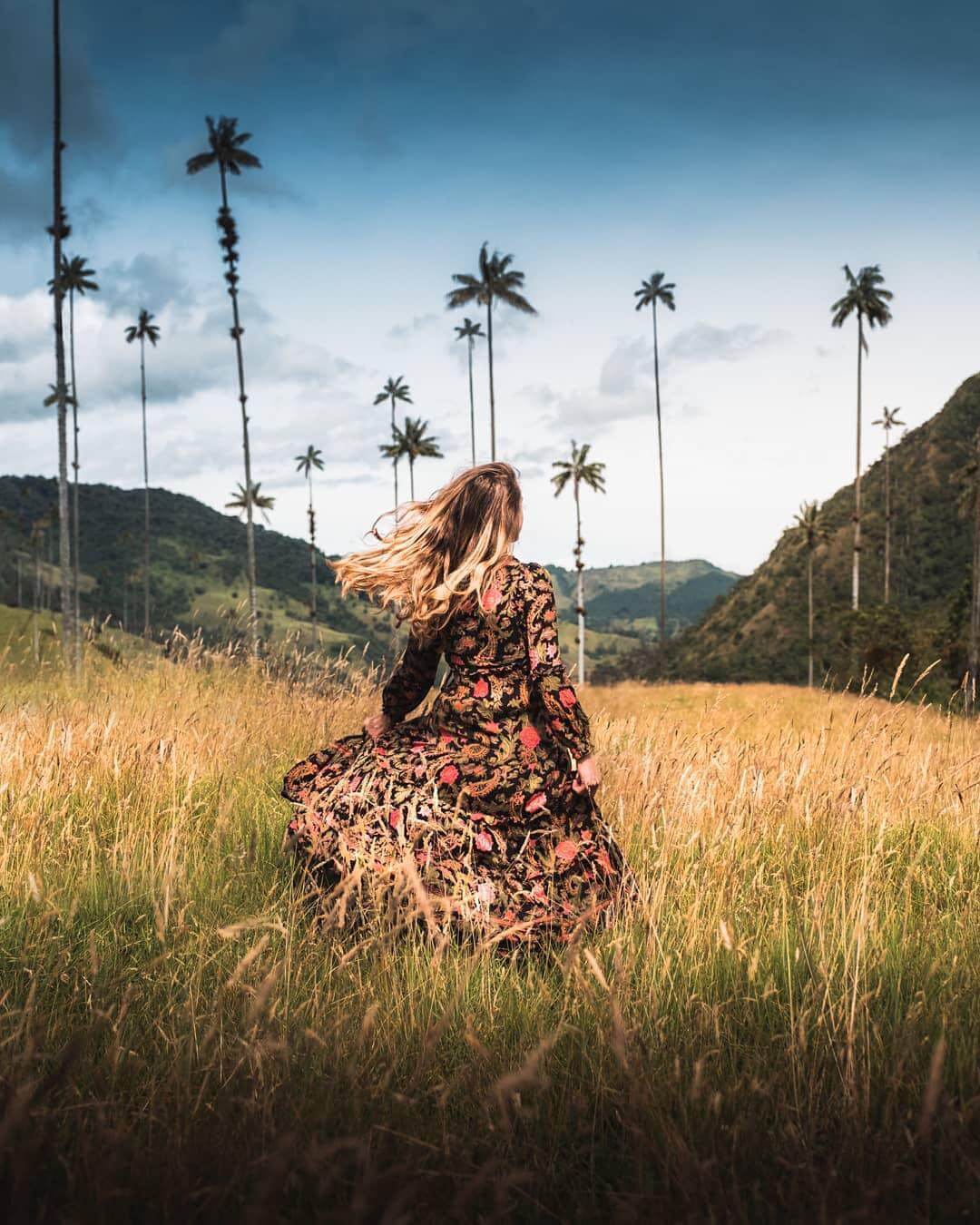 The protection of the wax palm does not lie in planting more trees, since this plant takes up to 57 years to start producing stem, 83 years to begin to reproduce and although they can live 200 years, when a specimen dies or is felled, there is no suckers that take their place.
Recommended: Tochecito, Tolima
HOW TO GET TO THE COCORA VALLEY FROM SALENTO?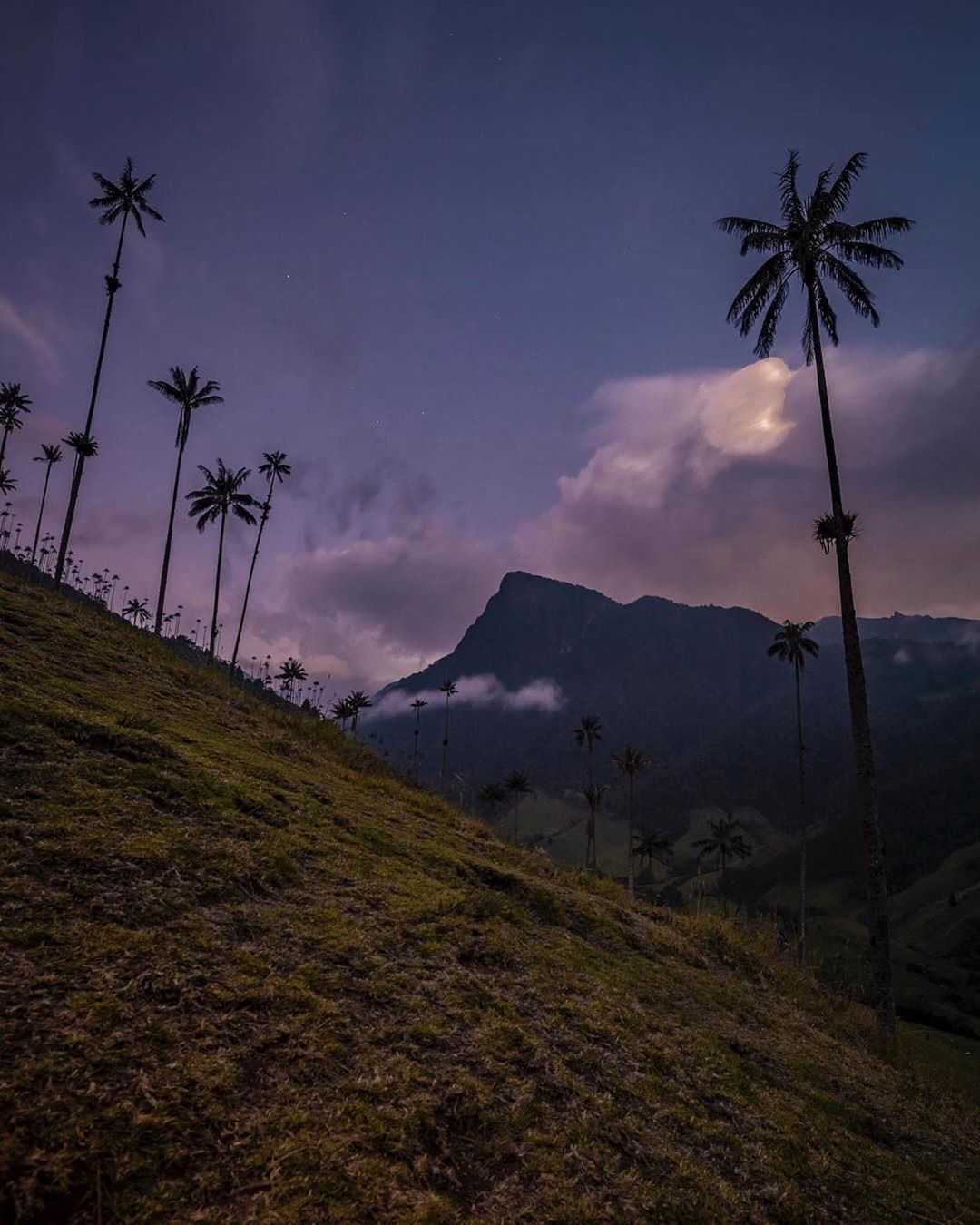 Cocora Valley is about a 20-minute drive from Salento, and in the main park you can find each Jeep ride from $4,000 COP. The last Jeep that leaves the Cocora Valley to Salento does it at 5 p.m.
In addition, you can enter the path that leads to the palm forest without a guide, but the entrance costs $5,000 COP. Also, keep in mind that when you reach the valley you will find restaurants with a bathroom service and secure parking from $10,000 COP.
WHAT TO DO IN THE COCORA VALLEY?
In the Cocora Valley you can walk to the viewpoint of the foggy forest, practice nature photography, go horseback riding, spot some birds such as the Momotus Momota and the Blue-winged Mountain-Tanager.
You can travel through the Cocora Valley on your own, but the ideal is that you hire a local guide, because there are trails that only the natives know, and by hiring them you directly support the rural economy and encourage the community to conserve its natural wealth and do not adopt extensive livestock.
WHERE TO SLEEP IN THE COCORA VALLEY?
In the restaurants that are around and at the entrance of the Cocora Valley, you can find camping areas and some cabins.
Although, if you want to spend the night in a more comfortable place you can look at La Cabaña EcoHotel, Hotel Pinohermoso, Lumbre Glamorous Camping, Cabañas Truchas and Palmas de Cocora.
Book your accommodation now and discover this magical corner!
4. ACAIME AND THE HOUSE OF HUMMINGBIRDS
Acaime is a natural reserve full of native flora and fauna, in which some drinking fountains have been installed where it is possible to see large, small hummingbirds, with long or short tails, curved and long beaks and all colors.
A natural enclosure on the mountains of the Andes that is located just over 4 kilometers from the Cocora Valley, and where you will find many birds and streams of crystal clear water.
The road that leads to Acaime and the House of hummingbirds is just as you reach the Cocora Valley, it has two paths enabled and to enter you must pay $5,000 COP.
We recommend that you get up early and go to the House of the Hummingbirds, take the path that leads to the palm forest and the Finca la Montaña, so you will take advantage that in the morning there are not so many people to take all the photos you want.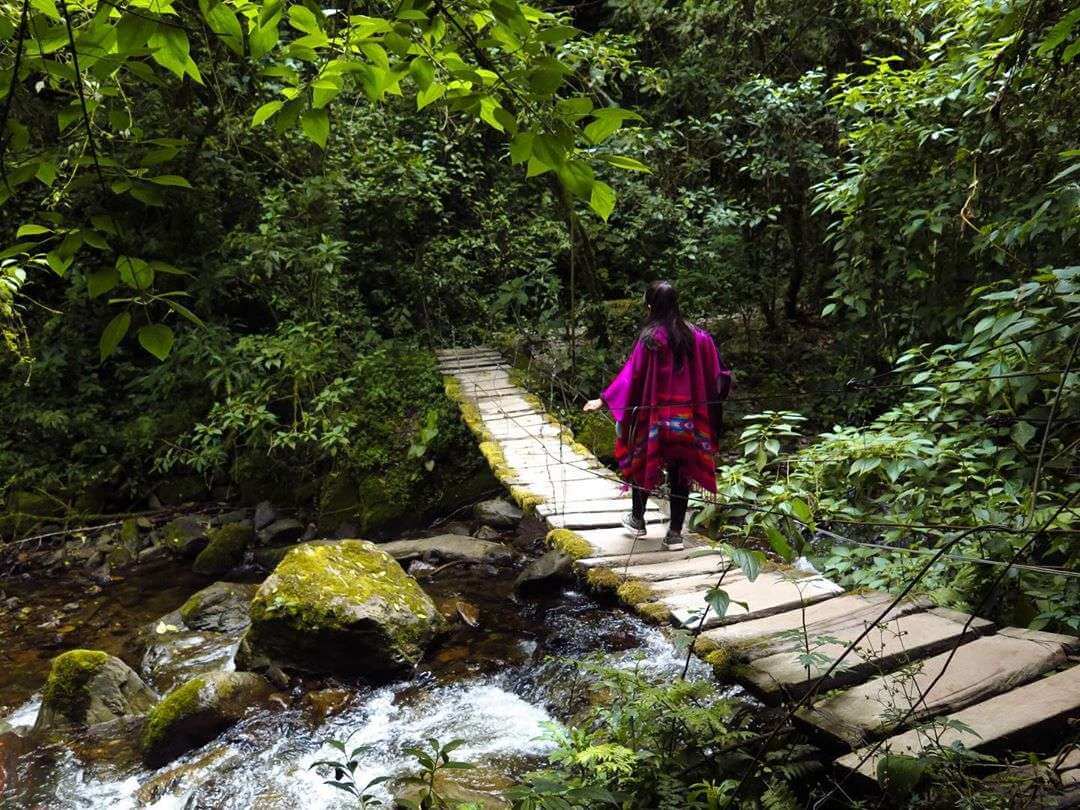 When you arrive at the House of the Hummingbirds, you will see dozens fluttering everywhere, but first you will have to pay another $5,000 COP that you can redeem in a panela water with cheese or a delicious coffee.
Once you have recovered your energy and enjoyed the presence of hummingbirds, you can go down to the Cocora Valley on the other path, where you will pass through suspension bridges, foggy forest, waterfalls and the river. Definitely one of the cheapest plans to make in Salento.
Recommended: Best Glamping in Colombia
5. HIKING TO LOS NEVADOS NATIONAL PARK
Los Nevados National Natural Park is one of the most beautiful places in Colombia, a place where they rise to more than 5,000 meters above sea level, the imposing snowy peaks of Tolima, Santa Isabel and El Ruiz. and the paramillos of the Quindío and El Cisne.
The park offers a unique landscape where snow, the fauna of the moor and the large number of lagoons such as Otún and Laguna Verde, make this place an ideal destination for those who want to connect with nature.
Perhaps the best is that from Salento and the Cocora Valley you can access the summit of the Tolima snowy, on a 3-day hike that promises to be one of the most rewarding experiences in Colombia.
Excursions to the Nevado del Tolima
6. COFFEE TOUR
One of the most desirable plans and experiences in Salento is to visit coffee farms and learn about the coffee process.
The coffee farms are located on the outskirts of the town, and there are coffee tours that address learning about the processes of planting, cultivation, collection and processing of coffee. An experience offered in Spanish and English.
In addition, during the coffee tour you can learn a little about the history around this fruit, its biological characteristics, the difficulties and bonanzas that coffee growers have experienced, and at the end you can enjoy a coffee tasting of origin.
On the outskirts of Salento there are many coffee farms that offer the coffee tour, it is only a matter of taking a Jeep in the main square of Salento and asking about a farm.
One of the most recognized coffee farms in Salento is Finca el Ocaso, there they do coffee tours every day from 9 a.m. Until 4pm. The guided tour can be hired from $20,000 to $70,000 COP, and lasts approximately 2 hours.
7. GO TO SANTA RITA WATERFALL
The Santa Rita waterfall is a beautiful body of water at least 20 meters high that ends in a natural pool, and if you plan to travel as a couple, it can become a very romantic place.
This waterfall is located 4 kilometers outside Salento, on the sidewalk Los Andes, a place that you can reach by Jeep, and from which you must start the 1.5 km walk to the waterfall.
The trip to the Santa Rita waterfall lasts about 30 minutes, passes through a forest path that borders the Quindío river, crosses tunnels, suspension bridges, several water sources and an old train track. Before this you must go through the Santa Rita where you must pay $5,000 COP.
At Finca Santa Rita you will also find camping areas where you can install your own tent from $15,000 COP.
8. VISIT FILANDIA
When traveling to Salento Quindío, a very good idea is to take the opportunity to visit your neighbor Filandia.
In Filandia you will find a town with similar characteristics to Salento, large colorful houses, a beautiful church and a very well preserved main park.
One of the differences between Salento and Filandia, is that in the latter you will find almost in each corner a beautiful viewpoint and that its beautiful houses are distributed throughout the town.
In Filandia you can visit the Street of Time stopped, enter the Bejuco al Canasto Interpretation Center, visit the Casa De Los Abuelos Museum, have lunch in Helena Adentro, and end with an incredible sunset at the Illuminated Hill Viewpoint.
Ideally, you spend at least 1 night in Filandia and take advantage of an entire morning to visit the Barbas River Canyon Bremen, one of the largest natural reserves in the region, which is home to wild howler monkeys.
HOW TO GET TO FILANDIA FROM SALENTO?
You can get to Filandia from Salento in one of the Jeep that are in the main park, the trip lasts approximately 40 minutes, the ticket costs $5,500 COP and the departure time is 8:30 a.m. to 6 p.m.
So if you decide to visit this other beautiful town of Quindío, you can spend the night at the Mythos Hostal, Hostal Colina de Lluvia y Casa Hotel El Compadre, if you prefer a country lodging book at Casa Muy ChaCho or Santa Elena de la Colina.
WHAT TO PACK FOR SALENTO, COLOMBIA?
📷 Camera
🥾 Hiking boots
✅ Bamboo toothbrush
BUDGET TO TRAVEL TO SALENTO FROM BOGOTÁ
🚌 Bus Bogotá – Salento – Bogotá: $119,000 COP
🚍 Jeep Salento to Valle del Cocora: $8.000 COP
🏨 Shared room: $30,000 COP
🍲 Meals: $50,000 COP
🌴 Entrance to the Cocora Valley: $5.000 COP
Total for a 2-day weekend in Salento: $212,000 COP
FINAL RECOMMENDATIONS
Keep in mind that during the last years Salento has undergone a great change, the great wave of travelers it has received has transformed many things and even many locals have moved in search of tranquility and calm.
Then, remember that you can help customs, norms and traditions last over time, understand differences, support small local economies and do not abuse natural resources.
OTHER DESTINATIONS OF COLOMBIA AND TRAVEL GUIDES THAT MAY INTEREST YOU
15 Plans near Bogotá, Santa Marta, Tatacoa desert, Jardín, Barichara, Guatapé, Monguí, Mompox, Fin del Mundo, Colombian Amazon, Río Güejar and 10 Beautiful Towns near Medellín.
See you soon!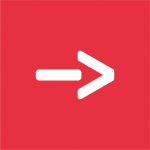 Travelgrafía
Somos un medio de comunicación que conecta viajeros amantes de la naturaleza y la aventura con historias que inspiran a descubrir la Colombia inexplorada.