Guatapé and Piedra del Peñol
AUTHOR: Travelgrafía
Guatapé is one of the most colorful towns in Colombia, a small town that intermingles its peasant tradition with indigenous history and culture, and reflects it in the form of colorful sockets and streets full of life.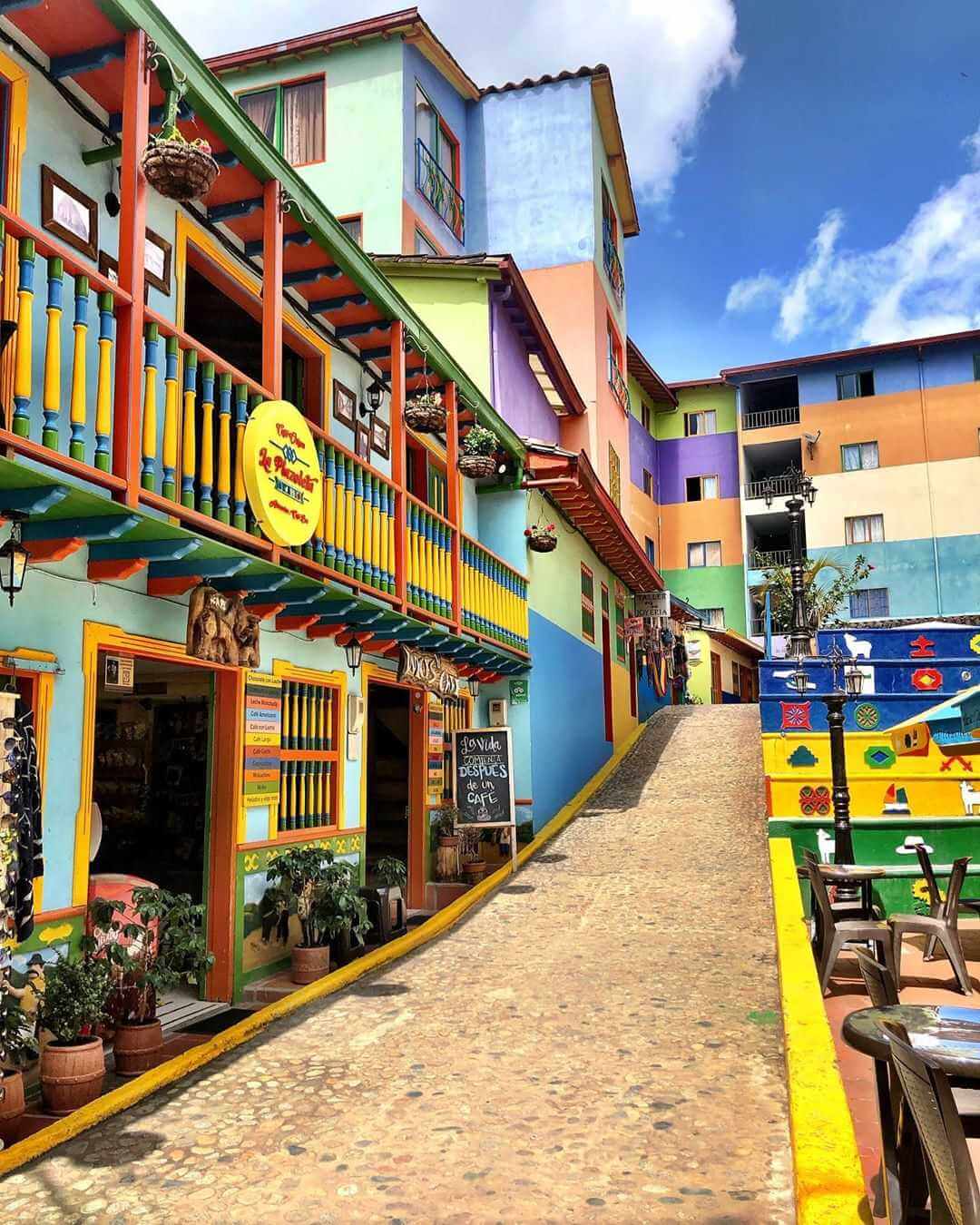 In this travel guide you will learn how to get, where to stay, what to do and what to pack for Guatapé and Piedra del Peñol, and the budget you need to visit one of the 10 beautiful towns near Medellín.
Updated in November 2019
GUATAPÉ, COLOMBIA
Guatapé is a town in Colombia, located 2 hours from Medellín. A world famous destination for being the town of the skirting and the home of the beautiful Piedra del Peñol.
The skirting boards are those small works of art that appear in the lower part of the houses, which in principle served to protect the facades from the voracity of the hens and the humidity.
While Piedra del Peñol, it is undoubtedly one of the best viewpoints in Colombia and the world.
Guatapé is located at an altitude of 1,925 meters above sea level, the climate is mild with occasional rains and its average temperature is between 21ºC and 13ºC.
HOW TO GET TO GUATAPÉ?
To get to Guatapé from any city in Colombia or the world, you must first arrive to Medellín.
🚌 Bus Bogotá to Medellín: $60.000 COP and 8 hours
🚍 Bus Cali to Medellín: $50.000 COP and 10 hours
🚌 Bus Cartagena to Medellín: $110.000 COP and 12 hours
🚍 Bus Medellín a Guatapé: $15.000 COP and 2 hours
If you arrive at Jose Maria Cordova Airport you must take a bus or a taxi to the roundabout where buses pass to Guatapé and Piedra del Peñol.
Before traveling to Guatapé, you can take advantage of your stay in Medellín, to take this Free tour through the historic center and go to Parque Arví, Museo de Antioquia or Botanical Garden.
In Medellín you can stay at Los Patios Hostel Boutique, Rango Hostel or Medellín Vibes Hostel, all are in El Poblado neighborhood, very close to Parque Lleras and a Metro station.
So, when you want to go to Guatapé, you only have to get to the North Transportation Terminal in Medellin, there you can find buses that take 2 hours to get to Guatapé, and each trip costs $15,000 COP.
Other alternatives to get to Guatapé from Medellín, is to rent a car, or if you have little time and want to go in 1 day, this tour is one of the cheapest and best, and includes bilingual guide, transportation, food and visit the stone.
WHERE TO STAY IN GUATAPÉ AND PIEDRA DEL PEÑOL?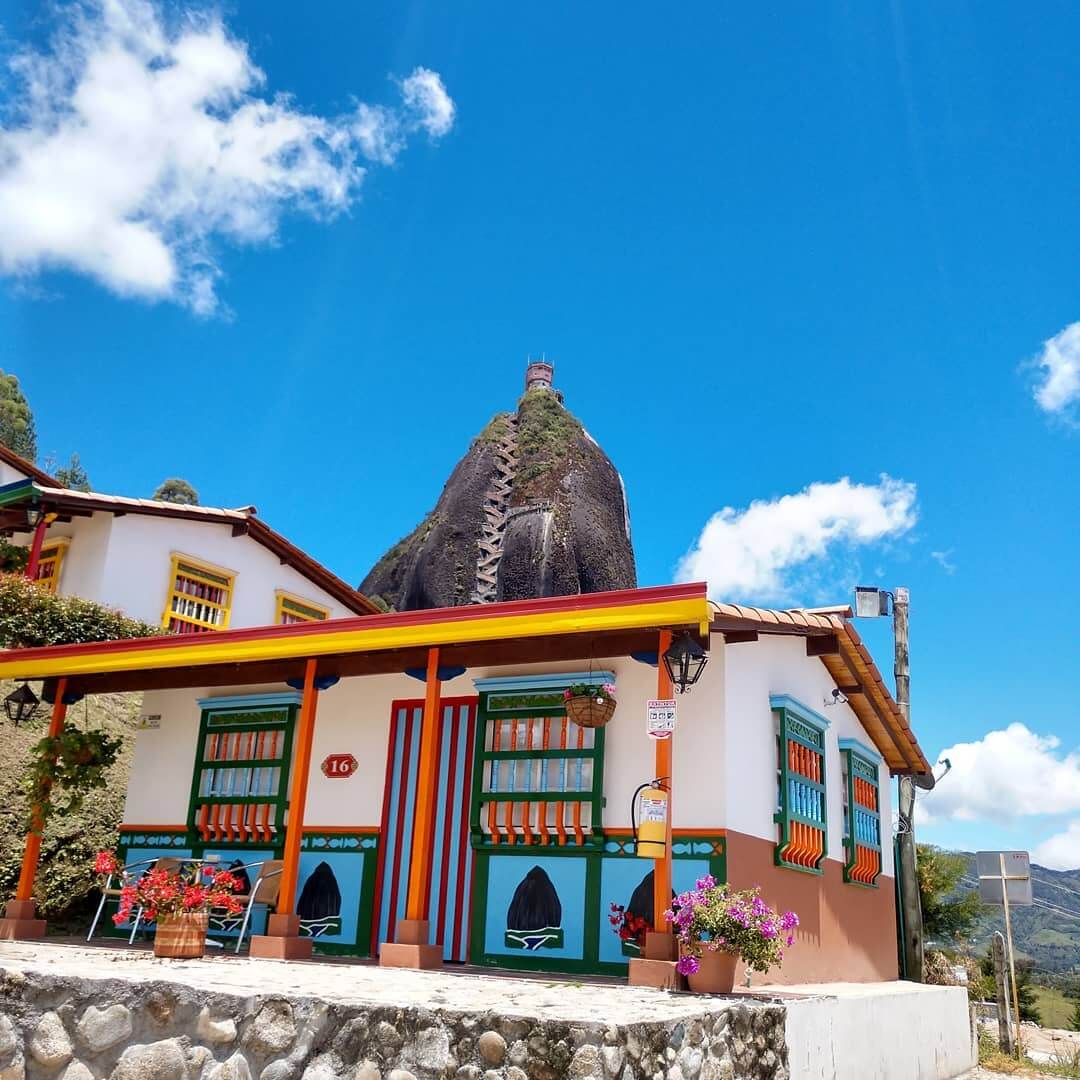 In Guatapé you can find hostels and hotels that preserve the local architecture. In Guatapé you can look at:
($) Hotel El Paisaje, Casa Kayam Hostal, Lake View Hostel ($$) Casa Encuentro by Haus, Country House Hostel ($$$) Bosko Glamping
Lodgings near the Piedra del Peñol:
($) Galería Hostel, Bacoa Hostel ($$) Ecolodge Bahía Peñón, Levit Glamping, Hotel Zocalo Campestre ($$$) El Trébol, Hotel Pietrasanta, Hotel La Magdalena
WHAT TO DO IN GUATAPÉ?
When you arrive in Guatapé, the first thing that receives you is its main park in Guatapé and the Church of Nuestra Señora del Carmen, a Greco-Roman temple that took more than 70 years to build.
And although it seems that there is little to do, the truth is that there is much to know. Discover all the things to do in Guatapé:
1. PIEDRA DEL PEÑOL OR ROCK OF PEÑOL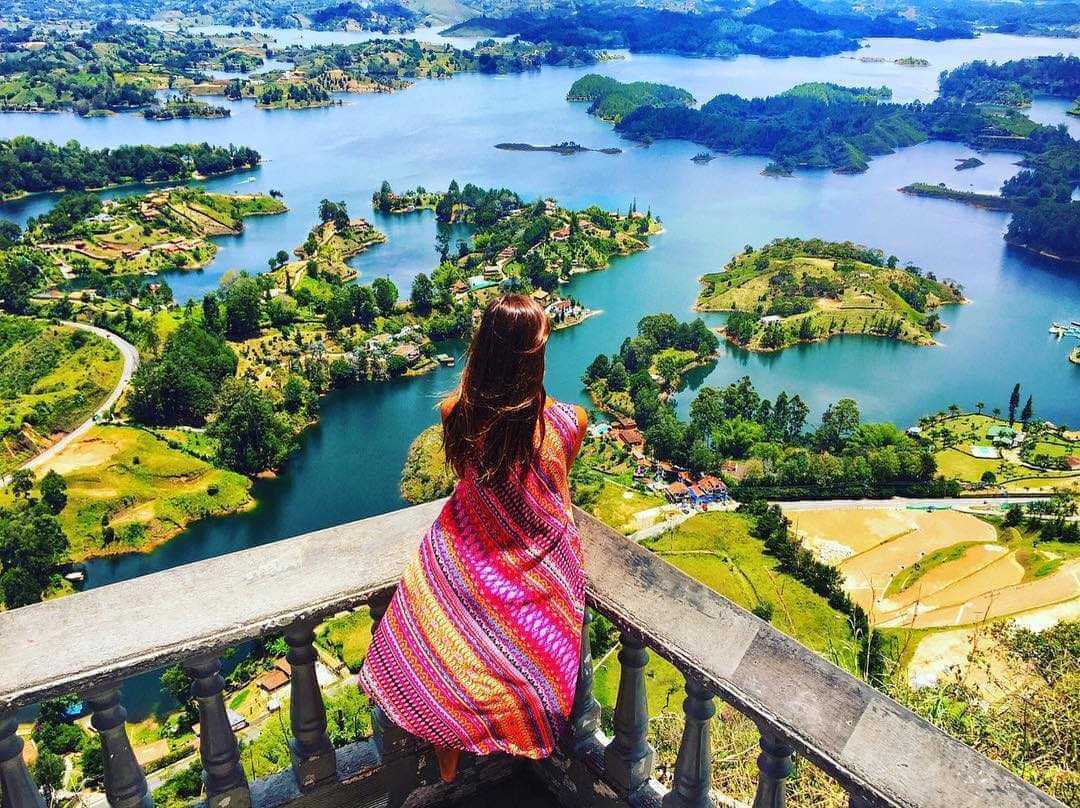 The Piedra del Peñol or El Peñol of Guatapé is a huge monolith 220 meters high, 60,000 tons, and a diameter of 100 meters, which inside there are more than 650 steps that culminate in one of the most incredible viewpoints in Colombia.
To get to Piedra del Peñol you have several options, you can ask the bus to leave you where the stone path begins, where you can walk a small inclined road or hire a tuk-tuk from $4,000 COP.
However, if you think first stop in Guatapé, keep in mind that in the town you can rent bicycles or take a tuk-tuk, which in less than 15 minutes will leave you at the entrance of Piedra del Peñol.
The entrance to Piedra del Peñol costs $18,000 COP for Colombians and foreigners. When you reach the top you will find some restaurants, a souvenir shop, and the viewpoint that allows you to have a 360º panoramic view of the Guatapé reservoir.
Keep in mind that if you plan to visit this giant monolith, the Piedra del Peñol schedule is from 8 a.m. at 6 p.m., and although the climb seems difficult, you can stop as many times as you want.
On the top of the stone there are shops that sell coffee, beer, juices, water and ice cream, just make sure you bring plenty of water or a bottle of water with a filter.
Book your guided visit for $30 USD
2. RESERVOIR PEÑOL – GUATAPÉ
The Peñol Reservoir – Guatapé is actually a lake or artificial lagoon that was built in the 70s, against the will and social manifestations of the inhabitants who lived in the area.
Such hydroelectric project required the demolition and flooding of the urban area of El Peñol and Guatapé, the relocation of these towns, and the displacement of hundreds of rural families for whom their main activity was the cultivation of tomato, onion, corn, cassava and banana.
Despite the difficulties, today the inhabitants of Peñol and Guatapé are committed to keeping alive the memory of their ancient villages, and an ideal plan to learn about the history is to take a boat ride through the reservoir.
The tours around the dam will take you to its most representative islands, the Old Peñol Museum, where you will find a replica of the old town, and The Cross, a symbol of resistance and hope before the fact that it was once qualify as the "Hiroshima paisa".
3. CALLE DEL RECUERDO
La Calle del Recuerdo is considered an urban and architectural heritage of the municipality of Guatapé, because it represents one of the old typical streets that were flooded when the creation of the reservoir was carried out.
So walking down this street means going a little deeper into the history of Guatapé, as you must remember that the place where the town is now is the result of the relocation that it suffered in the 70s.
To get to the Calle del Recuerdo you just have to walk 2 blocks from the main square of Guatapé. You will easily recognize it by its water fountain and its colorful houses adorned with some of the most representative plinths of the town.
In this street is also the Historical and Community Museum of Guatapé, inside which you will find rooms dedicated to archeology and history, and another totally itinerant. The museum hours are from 10 a.m. to 6 p.m.
4. PLAZOLETA DEL ZÓCALO
The Plazoleta del Zócalo is located one block from the main park of Guatapé, and there you can find colorful houses and buildings, some cafes and several craft shops.
In the center there are some concrete bleachers that make up the square, adorned by the traditional baseboards that portray the beautiful tradition of Guatapé. A space dedicated to art and culture, where small outdoor concerts are often held.
5. MALECÓN DE GUATAPÉ
Another excellent plan in Guatapé is to walk along the boardwalk, there you will find several restaurants, and agencies or operators that offer nautical activities such as Kayaking and Stand Up Paddle Board, a variant of surfing that does not need waves.
Paddling in the calm waters of the Guatapé Reservoir is a good option to spend the afternoon, from this place you can have a new perspective of the lake. In Lake View Hostel and Galería you can rent the kayaks for hours.
Recommended: Things to do in Santa Marta
6. ECOLOGIC WALKS
In Guatapé there is also place for hiking and trekking, because on the outskirts of the town there are ecological trails that cross forest reserves, rivers, waterfalls and mountainous passages that will take you to the Monastery of the Benedictines and to the trenches of General José María Córdoba.
WHAT TO PACK FOR GUATAPÉ, COLOMBIA?
📷 Camera
🌧️ Windbreaker Jacket
✅ Bamboo toothbrush
BUDGET TO TRAVEL TO GUATAPÉ FROM MEDELLÍN
🚌 Bus Medellín – Guatapé – Medellín: $30.000 COP
🏨 Shared room: $20.000 COP
🍲 Two-day meals: $60.000 COP
⛰️ Piedra del Peñol: $18.000 COP
🚍 Transportation to Piedra del Peñol: $10.000 COP
Total for a two-day weekend: $138,000 COP
FINAL TIPS
Keep in mind that Guatapé is one of the most visited villages in all of Antioquia, so it is a good idea to visit it during the week and book your accommodation and tours in advance. Also, don't litter and wear the life jacket whenever you go sailing.
OTHER COLOMBIA DESTINATIONS AND TRAVEL GUIDES THAT MAY INTEREST YOU
15 Plans near Bogotá, The best beaches in Colombia, Rincón del Mar, Barichara, Mompox, Palomino, Salento, Fin del Mundo, Colombian Amazon, and 10 Towns near Medellín
See you soon!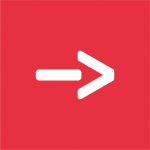 Travelgrafía
Somos un medio de comunicación que conecta viajeros amantes de la naturaleza y la aventura con historias que inspiran a descubrir la Colombia inexplorada.