The unexplored San Andres Island
AUTHOR: Diana Marroquín Gómez
Talk about San Andrés can be talk about Jhonny Cay, Rocky Cay, golf carts, tour of the island, remind the 'coco loco' (crazy coconut) and the aquarium, but should be talk about its culture, its colors, its biodiversity, the care of its sea and its tenacity.
I will show you some pictures I took during my last trip to the island and I dare you to recognize at least 10, if you don't succeed then accept you still have much to know about San Andrés and you should get back to exploring the island, ahh but just one thing, you pay for the tickets 😉
Do you accept? So let the challenge begin!
Oh! Mangroves, yes the island is full of them. Did you know that one of the mangrove ecosystem functions it's compared with the function of a big kidney? How to protect them? Easy, don't throw trash on them.
Awww, when you see them up close they're so… mmm… you'll also want to kiss them… I bet you've seen a lot of them with different colors on the island, right?
Aha! Look carefully cuz' I know you were there, you already recognize where is it?
Walking, walking through the center many see this but just a few watch it closely. What it is?
It is said that are 7 colors, sometimes they seem to be more, or I have visual problems I guess.
'Gotas de paz' (Peace drops), a space for child education very close to the sea.
Uhh! If you don't have a picture here, you failed! Run back for you picture but before keep on reading.
I'll make you a house on the sea? Just for you to live!
Who has seen a beautiful kitty over here?
The abandonment looks so good on this house. If you don't recognize her you should explore again the island, cuz' all of us have been there with out exception.
Hey keep an eye out! Are you already recognizing this places? Cuz' I'll not pay for your tickets!
As 'Cerati' would say, take out beauty from this chaos is a virtue.
These buddies aren't usually good swimmers, but they are skillful to move over its legs through the sea floor.
Hi, excuse me, would you like to share with us a bit of your humble home, with view to the most beautiful beach of… ahhh no! The name of the beach I leave it to you.
I hope you already got over the challenge.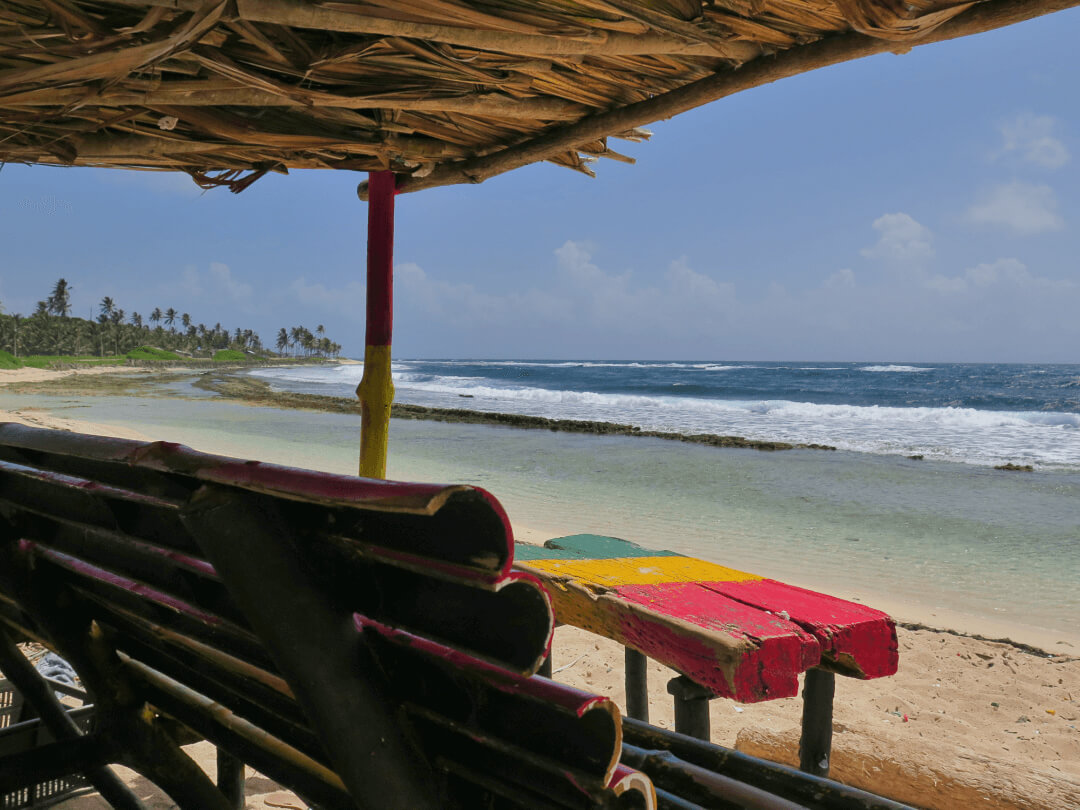 A break and then we continue our route over the island.
Think back, because I'm sure you have been near from this house. A clue: You saw her when you were going to take the motorboat to Jhonny Cay or to the aquarium.
In front of the bridge is Rocky Cay, and at the back is San Luis.
Has ever happened to you that you watch ruins and immediately you stop staring at that place? Lesson: watch the essence not the appearances!
I'm sorry but these colorful houses catch the lens from anyone.
Not even a gray day could outshine these postcards.
I am pleased to introduce you this beach, which on a personal note is the most beautiful from San Andrés and the least visited by tourists.
What was your result? Ok, no matter if you are a crack or a amateur, the point it's that you understand that San Andrés is much more than beaches full of tourists, take a risk and explore beyond the known, I'm sure you'll love it.
Finally, no matter if you are a native or not, at the end the beach belongs to us all, so worry about keep it clean and most of all make a responsible water consumption.
Diana Marroquín Gómez
Soy un poco abogada, un poco sensible, un poco de todo y una amante más de los viajes.