10-Day itinerary to travel to Colombia
AUTHOR: María del Carmen Perrier
Travel to Colombia is a great idea, because after appearing in important publications as one of the best destinations to visit, Colombia has received a record of tourists in recent years. What the vast majority does not know is that Colombia is so rich in biodiversity and so large in extent, that it is almost impossible to see everything in just a couple of weeks.
For this reason, in Travelgrafía we decided to offer you this 10-day plan so that you decide to travel to Colombia. With this planning you can see some of the most popular destinations within the country while enjoying the variety of ecosystems it has to offer.
TRAVEL TO COLOMBIA: STOP # 1 BOGOTÁ (2 NIGHTS)
Although travelers often ignore this station, a stop in Bogotá is mandatory to understand Colombia. Here you can have a quick cultural and historical immersion, while enjoying one of the best parties and night outings on the continent.
The recommended time in Bogotá is two nights, preferably during the weekend that is when the traffic is more enjoyable, the city comes alive, and the pubs and restaurants fill up.
WHAT TO DO IN BOGOTÁ?
A walk through the museums of La Candelaria is a must. From the Gold Museum to the Santa Clara Museum and the National Museum, Bogotá is surprised by the magnificence of its collections and museum exhibitions worldwide.
Bogotá is one of the most important gastronomic capitals of South America, and lunch and dinner are ideal times to explore local delicacies, and fruits and vegetables with real flavor.
There are many Colombian chefs ranked as the best in the world, and that shows in the offer of restaurants and dishes that offer a huge variety of delicious options.
You can't leave Bogotá without partying. Spend a night to barhopping in the bars and pubs of the Zona Rosa. The next night you can venture to the mythical Andrés Carne de Res in Chia (40 minutes from downtown) to live an authentic "rumba" at the best pace of magical realism.
In Andrés Carne de Res it is preferable to make a reservation and keep in mind that after 19 hours on Fridays and Saturdays cover is paid. The average per person is $100,000 COP with food and drink.
From Bogotá you can also do short walks for the day that will completely enrich your trip to Colombia. The most popular are visiting Villa de Leyva (3 hours), Zipaquirá and the Salt Cathedral (1.5 hours) or La Chorrera (1 hour and the tallest waterfall in Colombia).
WHERE TO STAY IN BOGOTÁ?
The size of Bogotá is so large that the options are many. If you prefer a 100% cultural plan, you can stay in the La Candelaria neighborhood, where you will have the best museums and cultural shows a few blocks away.
If you prefer a cultural combination of night outings and shopping, the best neighborhoods are Chapinero, Zona T or Usaquén.
TRAVEL TO COLOMBIA: STOP # 2 COFFEE REGION (3 NIGHTS)
This region is possibly one of the most surprising to travelers when it comes to traveling to Colombia. While it is popular knowledge that Colombia is home to the production of some of the most delicious coffees in the world, little is known about this huge region, its customs and natural wonders.
To reach the Coffee Region, it travels from Bogotá to Pereira, Armenia or Manizales (the capitals of the 3 departments that make up the region). There, plan at least three nights and consider renting a car to move with ease and without eagerness, especially if you travel in a group because it will be cheaper.
If you prefer not to move on your own, the region is very well connected by bus.
WHAT TO DO IN THE COFFEE REGION?
You cannot leave the Colombian Coffee region without spending a day in the Cocora Valley. The area was declared a national park in 1985 and since then it is the undisputed home of the wax palm, the national tree of the country.
You can reach the Cocora Valley from Salento in small buses that charge $3,500 COP per leg and the entrance costs $3,000 COP. To appreciate both the valley and the view from the mountains, it is important to arrive early, since the last return to Salento is at approximately 5:00 p.m.
In this region you cannot leave without visiting a coffee farm to learn about the coffee process and the Colombian culture around it. There is no trip to Colombia without a delicious cup of coffee.
A good option is the Caficultur tour that costs $30,000 COP with tasting included. Also recommended are the tour of Finca Momota in Salento or The Coffee Experience in Pijao. The Coffee Park is one of the favorite experiences of the locals, and it is ideal if you are going to travel to Colombia with children.
Another spectacular experience to live in this area is the sighting of birds and other species of flora and fauna in the Jardín Botánico del Quindío.
WHERE TO STAY IN THE COFFEE REGION?
Since the region is very large, you have many good options to stay. Usually, locals and tourists who go for a short time choose to travel to Armenia and stay in Salento.
Salento is a typical town in the region, with colorful houses and very well located to base the rest of the activities of this beautiful destination. There you can sleep at Ciudad de Segorbe, Terrazas de Salento or The Corner House Hostel.
If you prefer something less touristy, you can choose to stay in the hotel farms or country hotels that surround the entire area. This is an excellent option to see more closely the plantations and have a more authentic experience with local people.
Some hotels of this style that you can consider are Hotel La Tata Premium, Hotel La Tata, Solar de la Luna, Finca Hotel La Manuela, and Hotel Boutique el Triángulo.
TRAVEL TO COLOMBIA: STOP # 3 THE COLOMBIAN CARIBBEAN (4 NIGHTS)
To rest, there is no better option than to take a flight from one of the main cities of the Coffee Region to the Colombian Caribbean. The two most visited destinations are Santa Marta and Cartagena.
When traveling to Colombia and the Caribbean, we recommend you go first to Santa Marta for 3 days and then to Cartagena the other 2 days to end your 10 day trip.
SANTA MARTA
You may have to make a stopover, but you can reach your destination in approximately 3 hours and 40 minutes without problem. Santa Marta has gone through a huge revitalization campaign of its historic center that now comes alive in the afternoons and evenings.
WHAT TO DO IN SANTA MARTA?
From Santa Marta there are many spectacular walks to do. Most people concentrate on the plans at Tayrona park one of the most beautiful you can visit on your trip to Colombia.
It is a National Natural Park of 150 km2 on the Caribbean coast that attracts both its flora and fauna and its fabulous beaches. The three most visited (and the most beautiful) are Playa Cristal, Cabo San Juan de Guía and La Piscina and the entrance costs $61,500 for foreigners.
Before, Tayrona park closed the entire month of February for recovery, but now it will close 3 times a year. Before buying your tickets, check if that month will be open to enter.
But Santa Marta is not just Tayrona Park. There are many plans around to make, such as a visit to the town of Minca and Marinka waterfall. It is also a coffee area where you can do tours and you can enjoy the panoramic views of Casa Elemento, a hostel famous for its giant hammocks that overlook the mountains.
If you plan to stay more than 10 days, an excellent option for the more adventurous during your visit to Colombia is to trek to the Lost City. This archaeological wonder is hidden in the Sierra de Santa Marta and is believed to have been founded around 650 years before Machu Picchu.
Recommended: Tayrona – Travel guide
WHERE TO STAY IN SANTA MARTA?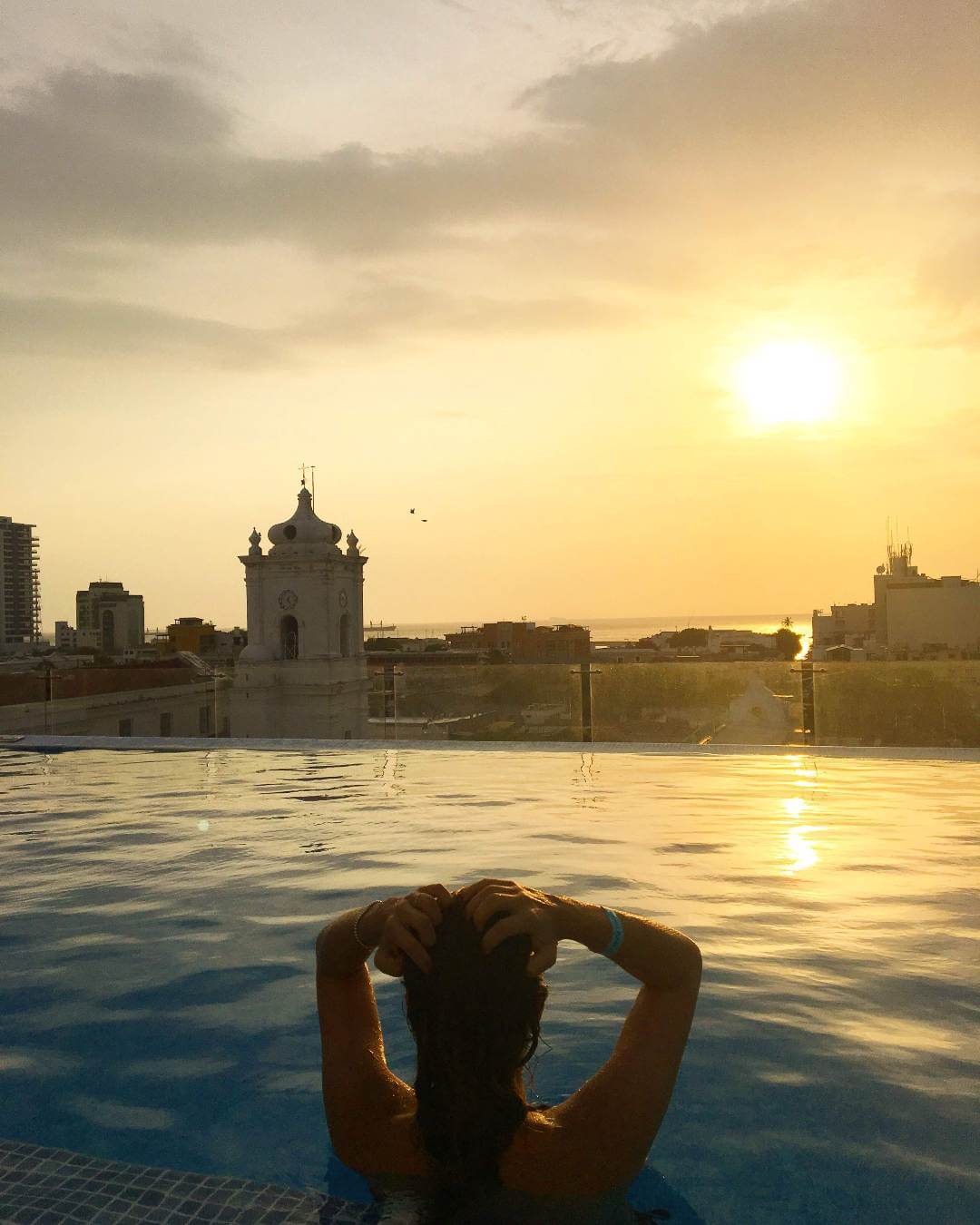 If you want to see only Tayrona Park, possibly the best option is to go directly to the park and stay in one of the options inside, such as the Playa Brava Teyumakke. On average one night in any of the options within the park is $90,000 COP.
If, on the contrary, you prefer to have more busy nights and only do one day in the Park and another in other beaches, the best option is to stay in Santa Marta. The hotel offer there is growing enormously and is of very good quality. Depending on your budget, you can stay in beautiful colonial hostels or more modern hotels with excellent views, such as the Hotel Catedral Plaza.
CARTAGENA
There are no words left to describe the beauty of Cartagena. The city is possibly one of the best restored colonial cities on the continent, and its islands and beaches attract people throughout the year to enjoy the turquoise Caribbean Sea.
WHAT TO DO IN CARTAGENA?
For your last 2 nights, try to relax. Walk around the city, get to know its monuments and museums like the San Pedro Claver Convent Museum  and enjoy the best Caribbean food watching the sunset over the wall. The bulwarks are a popular place to eat and spend the afternoon with live music and lots of movement.
Early in the morning or in the afternoon (to avoid the heat wave) you can visit the Fortress of San Felipe to learn about the history of the city and its importance during the Spanish colony.
You can also tour the streets of Getsemaní, the preferred neighborhood for backpackers. There you can not miss a visit to the Narrow Alley of Gethsemane, perhaps the most colorful street in all of Cartagena covered with colored umbrellas.
For the last day of total relaxation, you can plan a trip to the Rosario Islands. Almost all tourism agencies offer packages ranging from $120,000 to $170,000 COP that include transportation and food.
Isla del Sol, Majagua and Isla Mucura are some of the most requested. For more exclusive and personalized tours you can always opt for the Catamaran ride ($260,000 COP) that will make two stops around the islands and also includes food and drinks (without alcohol).
WHERE TO STAY IN CARTAGENA?
The two best places to stay are Getsemaní, Downtown and San Diego (the latter two make up what the walled area is). The first is more bohemian and quiet, the second is more hectic, touristy and expensive.
Anyway, something fundamental is to try to stay in one of the hotels that were built from old colonial houses. The Colombians here retain the original color, structure and vegetation in a charming way that greatly enriches the trip to Colombia.
Some of the recommended hotels in Gethsemane are: Hotel Capellán and Hotel Casa Lola. In the Center of Cartagena and San Diego: Casa La Fe, Casa Logos and Hotel San Agustín.
IS IT SAFE TO TRAVEL TO COLOMBIA?
Travel to Colombia is very safe, even if you travel alone. City centers (and especially tourist places) are always very well guarded by the police both during the day and at night.
Like any destination in the world, you have to be a responsible traveler and move within the natural limits that mark the routes of travelers like you to avoid surprises. Try to take care of your personal assets in restaurants and places visited, opportunists do not take vacations.
BUDGET TO TRAVEL TO COLOMBIA
As soon as the destination became more popular, the options increased significantly. Destinations that were 100% for backpackers and low-budget trips already have their most exclusive and luxurious alternative. In general you can travel within the range of the three budgets:
Backpacking: from $60,000 to $100,000 COP per day
Intermediate: from $120,000 to $200,000 COP per day
Exclusive: from $200,000 COP
TIPS FOR TRAVELING TO COLOMBIA
1. As mentioned before, in Colombia there is so much to see that the previous organization is essential to not have a very busy itinerary where you do not enjoy the destinations. This is a very large country where transfers can be long and tiring. Try not to be so ambitious even if you want to see everything, because you will find yourself running from airport to airport.
2. Colombia is located in the tropics, but both in Bogotá and in other cities that are more than 1,500 meters high you can go cold. Your suitcase must have everything from the swimsuit to the rain jacket so you don't have to run out to buy whatever you need to cover each ecosystem.
3. Search each destination for the most local experiences possible. Colombian culture is pure music, flavor, party and joy. It is the wonder of magical realism. If you return to your home without feeling Colombia running through your veins, you'll regret it.
OTHER DESTINATIONS OF COLOMBIA AND TRAVEL GUIDES THAT MAY INTEREST YOU
Roadtrip by Boyacá, 15 Plans near Bogotá, Mompox, Medellín, Tatacoa desert, Parque Tayrona, 10 Towns near Medellín, 15 Best beaches in Colombia and Glamping in Colombia
María del Carmen Perrier
María del Carmen vive en Colombia hace casi tres años y dijo que hasta no recorrerla toda no se iba a ir. Es escritora y comunicadora creativa, y en sus 30 años ya visitó 40 países, cinco de los cuales llamó «hogar».

El año pasado publicó su primer libro, «Del Otro Lado de la Montaña», publica semanalmente en su blog yonosoydeaca.com y sus artículos pueden leerse en importantes medios globales como Culture Trip.

Se define como una apasionada por la cultura, el mundo y la comunicación entre personas, y puede vivir feliz con papel, lápiz, croquetas y pilates.